Understanding the tastes of modern consumers means prioritising natural, quality ingredients without additives, dyes or preservatives. Cesarin looks at how new methodologies can preserve the authenticity of fruit and vegetable flavours to produce sweet and savoury baked goods.

In the confectionery market, as in large-scale retail, the search for healthy products seems to be an unstoppable trend. Stimulated by the emergence of new styles of consumption, today's consumers are increasingly seeking out natural, organic and free-from products1.
On the one hand, new purchasing habits are being formed as a result of greater attention to eating disorders – in industrialised countries, gluten intolerance has grown by more than 20% in the last five years. On the other, suppliers need to take into account consumers' perception of – and demand for – 'healthy' foods.
In this respect, clean label has become a key driver in the purchase decision, with an absence of dyes, preservatives or allergens being the characteristics most appreciated by shoppers.
Meanwhile, the combination of healthy food and wellbeing trends is pushing consumer preference towards products of certain and/or certified origin. So, products that can claim to be 'free-from', organic, PGI [protected geographic indication], with zero miles or 'local' are increasingly gaining retail space.
This search for naturalness is having an impact on the confectionery sector, which, prior to the Covid-19 pandemic, was achieving growth rates of up to 8% per year, 40% of which came from bakery products, followed by chocolate and cocoa products (over 30% approximately), ice cream (15%) and confectionery.
In this new, highly specialised market sector, knowing how to anticipate consumer trends – which are increasingly demanding in terms of naturalness and ethics – and readjust production accordingly is essential.
The use of fruit in products – as a filling, inclusion or decoration – is helping the confectionery industry stay at the forefront of these market trends, and the choice available on the market is much greater than it was a few years ago.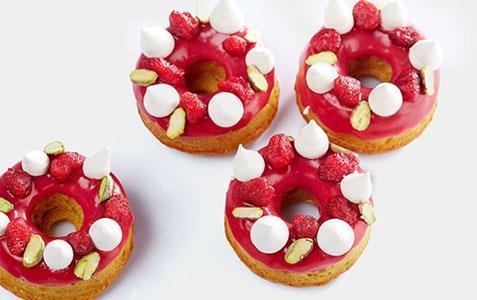 Freeze-dried, dehydrated or stabilised fruit?
Using fresh fruit has always been a problem for bakery products due to the level of moisture involved, so the advent of drier ingredients – first, deyhdrated (dried) and freeze-dried followed by low water activity (LWA) fruit – has made a real difference.
But what do these different fruits offer bakers in terms of production? Many don't make any distinction between them, although they are more dissimilar than one might think.
What is common to these ingredients is the fact that they lose nearly all the moisture that is typical in raw fruit. Yet, the applications for which they can be used and the final result are completely different.
Taste is the number one priority that consumers seek in food; unless something tastes delicious, they are simply not willing to consume it. In terms of dried, freeze-dried or LWA fruits, taste does not pose a problem, but that is where the similarity stops.
For dried fruit, due to the high temperature used during the drying, both the smell and flavour can be affected. While this doesn't occur with freeze-dried fruit, the texture of the product can change.
However, if a gentler process to remove the moisture is used, such as that for stabilised LWA products, the texture, smell and flavour remain the same. For example, Cesarin uses osmotic dehydration to remove water naturally from the raw material. Firstly, the fruit is cold-processed to preserve its natural colour, structural characteristics and nutrients, then dried very gently to decrease moisture content and ensure a longer shelf-life.
Meanwhile, with an increasing number of people looking for free-from products, additives need to be eliminated. Yet, not all the moisture in dried fruits is removed, which means they require the use of additives to achieve a longer shelf-life and remain fresh.
Freeze-dried and stabilised LWA fruit, however, are completely additive-free. For example, Cesarin's HG Fruit (LWA) contains about 12% moisture as, thanks to the company's exclusive technology, there is no need for additives to preserve the quality – the stabilisation of the water retained already does the trick.
Yet, when it comes to texture and application, such as for use in chocolate bars for example, stabilised fruit offers some distinct advantages over freeze-dried.
Chocolate and fruit bars: a growing trend
Including fruit or nuts in chocolate bars responds to a growing trend among UK consumers – with demand amounting to over £50m in value in 2019 and continuing to grow2.
Chocolate fruit snack bars, as well s being exceptionally tasty, meet the energy needs of a hectic lifestyle and the dietary needs of those consumers who prefer to devote little time to lunch or are simply lookng for a quick and healthy snack.
Bars are also a practical alternative to a meal after a workout. Their pocket-sized, storable and single-portion format make them the easy alternative for restoring energy reserves without excessively increasing consumption of saturated fats and cholesterol.
While freeze-dried fruit does maintain its shape better, bakers might be put off by the texture or difficulty to use in recipes, as the near-total absence of water means they don't withstand mixing directly into chocolate or other doughs while retaining their shape.
Stabilised LWA fruit, on the other hand, has very high resistance to mechanical stress and is designed for use in automatic bakery and food equipment. In fact, one of the best applications for stabilised fruit is mixing with chocolate to coat ice cream or cake, for example. Therefore, HG Fruit (LWA), also available in a no-added-sugar version, allows for the inclusion of whole recognisable pieces of fruit in a chocolate bar, for example, and is also suitable for use in biscuits as the products have great resistance to the high baking temperatures needed and remain soft after baking.
Less sugar for indulging guilty pleasure
Following the trends of freshness, naturalness and low added sugar, candied fruit is now less popular for decorating bakery products than it was a few years ago, giving way to products with less sugar. However, there is still a need for pieces of 'fresh-like' fruit for garnish or as a filling and, via cold processing, Cesarin has developed TuttaFrutta, an indulgent semi-candied alternative that is more attractive to the end-consumer, as it is perceived to be healthy, and is also accepted by those who dislike candied fruit.
This has a natural taste and is free of flavourings and colourings. The reduced sugar content (60°Bx) maintains a brilliant appearance in leavened products and in all bakery applications.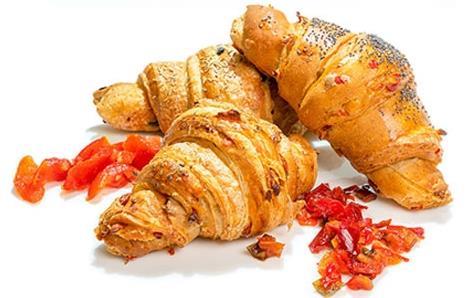 Stabilised vegetables: when innovation meets tradition
As consumers search for greater health attributes in products, traditional bakery recipes have been modified with lighter versions and enriched with vegetables.
To solve the common problem of water release in the dough, stabilised vegetables are a valid alternative for use in savoury products.
Cesarin's HG Vegetables follow the same stabilisation process as its HG Fruit, allowing them to be preserved through the partial inhibition of the water activity naturally present in the fresh raw material.
This process guarantees a better organoleptic appearance and a less fibrous structure than dehydrated products and a higher resistance to mechanical stress, as well as less water release than frozen products.
Stabilised vegetables can be used as a topping to improve the aesthetic appearance of a product or as an ingredient in sandwiches, ready meals, quiches, crackers, breads and rice/pasta salads.
This versatile product allows bakers to create many new on-trend recipes, even satisfying consumers who have vegan or vegetarian diet preferences.
To find out more about how Cesarin answers the need for more naturalness in your bakery goods, click here.
For individual product information and recipes, click here.
Sources
1 https://www.statista.com/topics/3731/health-and-wellness-food-trends-in-europe/
2 https://www.statista.com/statistics/481682/chocolate-bars-with-cereal-fruit-or-nuts-value-sales-united-kingdom-uk/