With the veganism and vegetarianism trend firmly entrenched in the UK, Puratos UK illustrates how bakers can easily tap this modern-day demand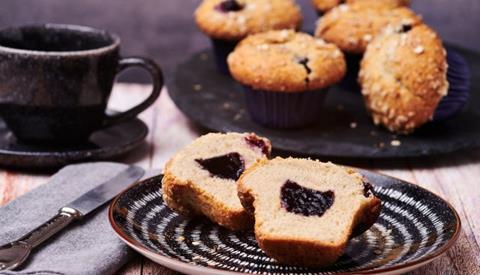 Veganism is one bakery trend that is set to continue to grow and is now considered beyond a trend by many. A recent consumer study1 shows that vegan food is increasingly seen as being good for the environment and beneficial to health, with 20% of people buying vegan or vegetarian food on a weekly basis and 24% expecting to buy more in the future. In fact, according to the study, 38% of people believe vegan food has a positive impact on the environment and 69% see plant-based products as a solution to prevent or solve food shortages.
Meanwhile, figures from The Vegan Society show that the number of vegans in the UK quadrupled between 2014 and 2018 and one in five consumers is actively reducing meat intake, with a quarter of Brits predicted to be vegan or vegetarian by 2025.
This trend derives its strength from a combination of health and environmental concerns and appears here to stay. So how can bakers best capitalise?
Following a vegan diet shouldn't mean compromising on great taste and texture and those customers should be able to expect to enjoy the same delicious patisserie and bakery products regardless of their food lifestyle choices. Variety is paramount and bakers should always look for ways to add exciting new products to their vegan or vegetarian offering.
In addition, bakers need to be able to rely on ingredients suppliers that follow the same ethos when it comes to veganism or vegetarianism and help them gain inspiration for new products that deliver on taste, health and freshness.
For example, 'power' ingredients such as oats, grains and sunflower seeds, for example, can be used to create wide variety of tasty and healthy snacking products that appeal to the vegan market.
Appropriate vegan-friendly mixes can be used to create a whole range of products, from celebration cakes, muffins, cookies to scones, swirls and rock cakes. The simple addition of water and oil makes these mixes extremely user-friendly and, if freeze and thaw stable, allows the baker to scale up to bulk baking.
When it comes to fillings and decoration, bakers should seek out non-dairy creams with excellent stability, while fruit fillings with a high fruit content are naturally vegan and can add flavour and zest to any sweet bakery offering.
To keep pace with the growing demand and to help bakers satisfy their customers' requirements, Puratos UK continues to add to its suitable for vegan range, working hard to ensure each new vegan launch delivers these qualities in line with all the company's products.
Lee Burnside, Puratos UK Bakery and Artisan Sales Director, says: "Our ever-expanding vegan range enables bakers to tap into the growing trend for a plant based diet, with the same great taste, texture and quality, that our customers expect from Puratos. It allows bakers to create delicious patisserie; from cakes and scones, to croissants and Danish pastries, that are sure to delight both vegan and non-vegan customers alike."
Items offered include its versatile NEW Vegan Granola Bake Mix, suitable for oat-based snacks; the NEW Satin Vegan Plain Complete Cake Mix, which requires the addition of just water and oil to achieve great-tasting vegan cakes; the Puratos Scone Mix, suitable for vegans and boasting delicious "buttery" notes; Ambiante; a non-dairy cream with excellent stability, which can be used for decoration, as a filling, or served with cakes and scones and other patisserie items; fruit fillings in a variety of delicious flavours with high fruit content and excellent technical capabilities; and a choice of speciality fats, suitable for creating vegan croissants and Danish pastries with the same texture as all-butter versions.
To download your free guide to Puratos' vegan-friendly products, please go to www.puratos.co.uk/en/campaigns/vegan
For more details on Puratos, please visit www.puratos.co.uk/en
1 Puratos 2019 Taste Tomorrow 2019, A Foodstep into the Future. Taste Tomorrow is the world's largest bakery, patisserie and chocolate consumer survey, carried out by international baking, patisserie and chocolate ingredients business Puratos. Unveiling in-depth insights into global and local consumer behaviours, attitudes and choices, after questioning 17,478 consumers in 40 countries, this independent study offers a 'foodstep' into the future and predicts what consumers will come to expect in 2030.