Seasonality is a huge opportunity for food manufacturers. New flavour profiles, textures, and colours are so important for innovation. Read why blonde chocolate will be the next big flavour.

Due to Covid and the cost-of-living crisis it might seem like innovation has slowed down in the baking industry, but seasonality is still a huge opportunity for food manufacturers. With such importance on seasonal sales, Puratos UK is seeing exciting launches like 'artfully created smash cakes, for the night before Christmas' and 'menus for the golden hour' (the perfect food and drink to consume while the sun goes down)," says Lydia Baines, marketing manager, patisserie at the company.
Retail and out-of-home outlets are fully aligned and opportunities are growing as consumers increasingly look to enhance experiences with food. As bakers and cake manufacturers home in on these prospects there are some key points to consider:
Taste remains important
With 67% UK consumers citing that taste is the number one most crucial factor when buying cakes1, consumers are continuously on the search for new flavour experiences, according to Puratos' recent study. "People are striving for affordable luxury and, of course, cakes and baked goods are prime candidates for this type of indulgence," says Baines. "With the pressure of less disposable income, consumers are turning to affordable treats to create a moment of extravagance, meaning bakers and manufacturers are under pressure to produce delicious goods to meet consumers desires."
Where to start?
With 76% UK consumers liking traditional tastes but 65% enjoying exotic flavours from around the world2, there are lots of avenues to explore.
"Start with something familiar," she advises. "64% consumers say they like having a familiar element when trying new food3, so it is no surprise that patisserie hybrids have become embedded in our culture, taking consumer favourites and mixing them up with new flavours, textures and formats, creating taste and texture masterpieces – and there is no better occasion for this type of experimentation than seasonal limited editions."
Puratos top tip: Test out new flavour combinations in snacking and individual cake formats; consumers see this as minimal risk because they are not spending much money. 63% of consumers said they would make an impulse buy if a product had an innovative flavour4.
Flavour is key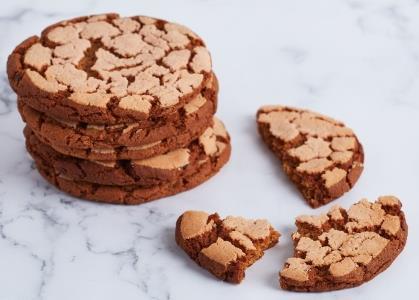 Tweaking classic flavours to add value is big news. "If you take the example of salted caramel – dominating product launches for years and now tweaked to include spiced biscuit and Speculoos flavours, adding a new layer of flavour complexity to an already incredibly popular flavour – you only had to look down the seasonal aisle of any of the retailers over Christmas, Valentine's and Easter to see all the exciting options," says Baines.
While the spiced biscuit will continue to see lots of innovative launches, this is the year of chocolate, she notes. "Brown flavours continue to rule the indulgence category, as they bring an emotional pull to consumers, hitting nostalgic notes with their comforting tastes and aromas. 90% of consumers believe that chocolate adds to the tastiness of cakes and sweet goods5. But something new is needed…," she adds.
56% consumers like a new combination of tastes that are unusual at first6, so bring on the blonde chocolate!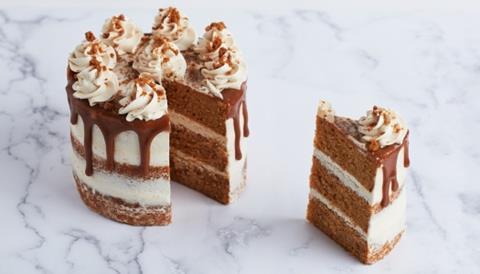 A twist on the classic 'white chocolate' the UK baking industry will continue to see the emergence of 'blonde chocolate', which mixes the creamy sweetness of white chocolate with a caramelised hue –creating a more luxurious flavour profile. "With a bit of creative wording, this information can be used to create an indulgent story on the packaging to help draw consumers in," advises Baines.
Blonde chocolate appeals to all ages
Blonde chocolate was first introduced into the market in 1959 and, for decades, took the form of an incredibly famous chocolate bar which was loved across the nation. "Bringing back the childhood memories for so many, blonde chocolate fits snugly into nostalgia trends," she says. "Meanwhile, for Gen Z who give a higher importance to flavour than any other generation7, they will get to try a new indulgent flavour experience."
"Ages 55 and over are more likely to look for seasonal limited editions8"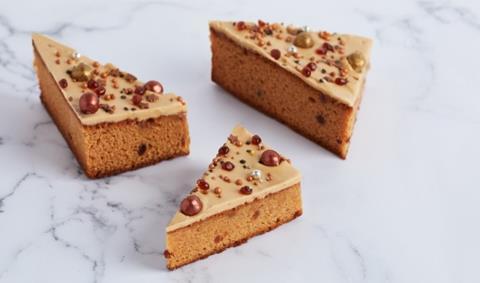 Blonde chocolate has been re-emerging as a serious player in chocolate confection for several years with all key brands adding blonde chocolate options to their ranges. Christmas '22 brought blonde chocolate into tasty new formats, including snowy blonde chocolate spread, golden blonde cheesecakes, blondies and more. "This year, we expect to see blonde chocolate cakes make their way to the shelves for Halloween, Christmas, Valentine's, Easter and beyond," she concludes.
Puratos top tip: Flavour hybrids are a fantastic opportunity to add a new twist to a classic brand and attract new or lapsed consumers, especially in 'treat' and 'indulgent' areas.
To discover more cake trends for Autumn 2023 and beyond, click here.
Sources
1-3 Puratos Taste Tomorrow Global Consumer Study, UK specific data, May 2023
4 Innova market insights, Innova flavour survey 2022
5-6 Puratos Taste Tomorrow Global Consumer Study, UK specific data, May 2023
7 Gen Z: Exciting and Inspiring – Meeting the Flavour Wish List, Innova Market Insights
8 Innova market insights, Innova flavour survey 2022

Puratos UK is part of an international baking, patisserie and chocolate ingredients business with over 100 years of rich and varied knowledge. We use the latest consumer insight, research and technology, combined with knowledge of food around the world, to offer creativity and new ideas through our highly regarded UK Innovation Centre. Puratos UK offers a full range of innovative products and application expertise in the bakery, patisserie, dessert, dairy and chocolate sectors. Servicing artisan bakers, food industry manufacturers, retailers and foodservice businesses both in the UK and internationally, Puratos Group has subsidiaries in 81 countries and products available on over 100 countries. Above all, we aim to move the planet forward by creating innovative food solutions for the health & wellbeing of people everywhere.
View full Profile