Sourdough's popularity has soared in recent years, as it continues to satisfy several current consumer trends. Ben Ledger, marketing manager at Puratos UK outlines the latest research from the company.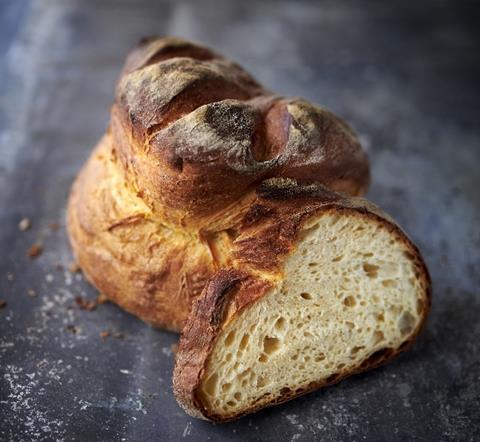 Sourdough is nothing new. In fact, it can trace its roots back thousands of years. However, when mass-produced, ultra-processed white bread gained ground in the post-war era, the popularity of 'authentic' and 'rustic' breads, such as sourdough and wholegrain, soon waned.
In recent years, though, sourdough has enjoyed something of a renaissance, thanks in large part to the impact of Covid-19. "With more locked-down consumers seeking out health-boosting, artisanal breads and taking up the at-home baking baton, demand for sourdough ingredients and products boomed – with Google searches relating to bread and 'sourdough' increasing five-fold," reveals Ben Ledger, marketing manager for bakery at Puratos UK.
The pandemic may seem like a distant memory, but the trends are here to stay, he says. "In fact, new 2023 Taste Tomorrow research found that one in five (21%) UK consumers now bake bread at home and more than two thirds (68%) believe sourdough adds more taste to bread," he notes. "It is clear people have developed an appetite for fresher, more indulgent, natural baked goods, and, as it ticks all of these boxes, sourdough as an ingredient will continue to give flavour and gain favour."
Here, Puratos takes a closer look at what is driving consumer demand and how manufacturers can stay ahead of the sourdough curve.
Freshness, taste and price reign supreme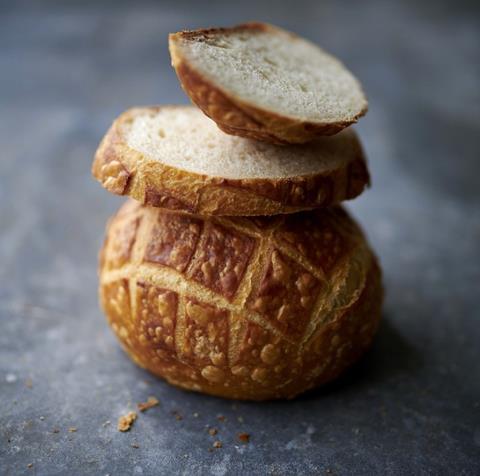 The latest Taste Tomorrow findings have revealed that freshness, taste, and price are the three most important elements when shoppers come to choose bakery products.
The area in which bakers can exert most control and influence is taste, as the opportunities are endless. And the unique tastes and varied textures associated with sourdough products satiate consumer desire for more diverse and flavoursome food.
Conventionally, sourdough breads have been sour and tangy, but Puratos' recent sourdough research has found that mild, fermented types have the widest appeal to all consumer types. Further expanding bread ranges with more varied flavour profiles, from creamy and malted to fruity, earthy and toasted, can cater to differing tastes and therefore attract new customers.
There is also an opportunity to leverage the widely held view that sourdough is healthy. Taste Tomorrow reveals that almost half of UK consumers now believe that sourdough loaves are healthier than standard loaves, which may be explained in part by the perception that fermented products have gut-supporting, digestion-inducing properties.
Its simplicity also has appeal. Sourdough is a live starter culture, usually based on water and flour which, when fermented over time, is the leavening agent in sourdough bread. This fermentation process, combined with the short ingredients list, attracts consumers seeking more natural, less processed products. In fact, 'all natural ingredients' was found to be a top characteristic when purchasing baked goods, according to Taste Tomorrow.
A look into the future of sourdough
The new Taste Tomorrow data has also found that price is a pivotal factor when it comes to purchasing sourdough. However, price parity is one of the biggest challenges for manufacturers, particularly given the current cost-of-living crisis, as consumers often associate sourdough with a premium price tag.
"Price is a pivotal factor when it comes to purchasing sourdough. However, price parity is one of the biggest challenges for manufacturers"
Brands and bakers can help to overcome this by emulating and promoting the qualities that consumers believe are worth paying more for, such as freshness (40%), the use of local ingredients (24%), and innovative flavours and taste (23%).
There is also opportunity for supermarkets to become a champion of cost-effective sourdough. Taste Tomorrow's research has discovered that 52% of consumers are purchasing more bakery products at the supermarket in an effort to save on costs. With this in mind, multiple retailers are increasingly attempting to make sourdough products more accessible, affordable and competitive with other bread types by breaking down the cost barrier. And they are succeeding, with some packaged half loaves priced under £2.
Furthermore, opportunity lies in sourdough's versatility. Used as an ingredient, sourdough is being incorporated into many different applications, bringing its myriad benefits and wealth of flavour to categories such as patisserie, desserts and savoury meals.
Another food topic on the top of consumers' priority list is sustainability. The prioritisation of healthy soil, healthy plants and, ultimately, healthy food aligns perfectly with conscious consumer values. Taste Tomorrow data shows that 69% of consumers are interested in food produced through sustainable farming methods and 60% consider products made in this way better for the environment. A notable advantage of regenerative farming is that it can improve the health of the cereals grown in the soil, capture carbon from the atmosphere and increase biodiversity of the plants and ingredients.
Preserving sourdough's history to better the future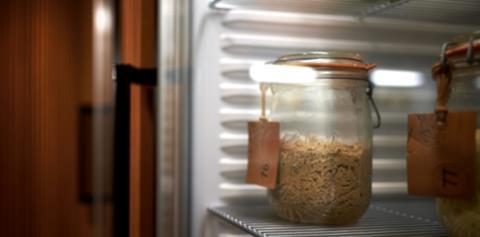 Puratos' sourdough library in St. Vith, Belgium, is dedicated to preserving sourdough's heritage and to ensuring the survival of various strains for future use. It is home to 136 unique cultures from 25 different countries, and over the past decade, has played host to extensive research programmes to harness all the benefits of sourdough and unlock its true potential.
To mark the 10-year anniversary of the library's opening, Puratos will host a livestream event entitled 'The Lab' on 18 October. The event will bring together the brightest minds in the field of sourdough to share knowledge and discuss topics such as health and well-being and sustainability. Attendees will also be provided with invaluable industry insights into the latest research around the innovative ingredient.
Speakers will include Marco Gobbetti, a professor in food microbiology at the University of Bolzano; Adrian Grenier, co-founder and chief creative officer of Earth Speed; Sara de Pelsmaeker, group health and well-being director at Puratos, and Guido Vanherpe, CEO of La Lorraine Bakery Group.
For more information, watch the video below or sign up to the event here.

Puratos UK is part of an international baking, patisserie and chocolate ingredients business with over 100 years of rich and varied knowledge. We use the latest consumer insight, research and technology, combined with knowledge of food around the world, to offer creativity and new ideas through our highly regarded UK Innovation Centre. Puratos UK offers a full range of innovative products and application expertise in the bakery, patisserie, dessert, dairy and chocolate sectors. Servicing artisan bakers, food industry manufacturers, retailers and foodservice businesses both in the UK and internationally, Puratos Group has subsidiaries in 81 countries and products available on over 100 countries. Above all, we aim to move the planet forward by creating innovative food solutions for the health & wellbeing of people everywhere.
View full Profile