With skilled labour in short supply, Brook Food explains how bakeries can maximise use of one machine to cover a multitude of tasks, saving costs and improving efficiency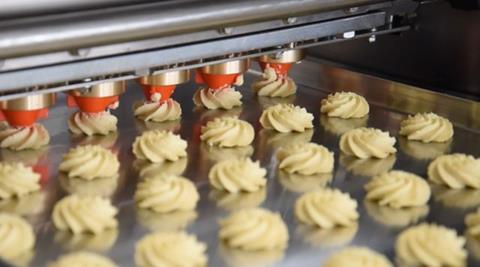 More than a quarter of Scots consumed biscuits once a day or more during 20181. In fact, in the decade prior to these figures being announced, purchases of take-home biscuits and confectionery remained stable at just over 100,000 tonnes per annum. So, the success and staying power of these product lines means wholesale producers looking to create authentic regional products are comfortable about investing in them.
However, for bakers and food producers that are making either a large amount of a small range of products or a selection of different lines in larger quantities, there are many production planning challenges to overcome. Consistency, skilled labour and labour costs are three of the main hurdles, and achieving planned production targets to fulfil orders without compromising quality and uniformity is a constant struggle.
Manufacturers are often unsure if a solution exists, but for many products, it is possible to automate production with a single depositing machine and make huge savings – all while retaining a high quality standard.
For example, empire biscuits, a sweet speciality popular in Scotland and other Commonwealth countries, feature two buttery biscuits sandwiched together with jam and decorated with icing. Although a relatively simple product, they can be time-consuming to put together. So, any labour savings that can be made to produce the biscuits can dramatically improve production levels in larger manufacturing businesses.
Equally, wire-cut biscuits, such as these pumpkin biscuits (left) can be fiddly to make in large quantities.
Meringue, originating in the 1500s, is also a relatively straightforward product that can be utilised in many ways. In recent years, it has seen a comeback, offering a modern-retro pop of colour to both retail bakery stores windows and as an ingredient in many wholesale recipes.
Bakeries seeking solutions
Two bakeries that found the use of a depositor suited their needs for empire biscuits and meringues, among other products, were large wholesale bakery Kerrs, based in north Lanarkshire, and Chichester-based Sussex Bakes.
Kerrs, which operates from a BRC-accredited factory, prides itself on continually producing quality goods that meet the demands and requirements of its customers and end-users. Manufacturing a huge range of products, it sells directly to various establishments, as well as through wholesale distributors working on own-label and bespoke goods. The bakery handles many product categories, supplied in various packed formats. As such, consistency is key to its business.
From empire biscuits, cupcakes, sponge squares from a sheet, loaf cakes and Swiss rolls, to many other items, Kerrs needed to guarantee uniformity without increasing production time and costs, enabling it to supply an increasingly demanding market. With a lack of skilled labour available, the bakery was looking to increase production, raise profitability and be able to commit to new national contracts. Knowing automating production would do this, Kerrs sought a depositor that offered versatility across products and capabilities and decided a machine that could offer empire biscuits wire-cut evenly and quickly was a sensible route to explore.
Since installing its first depositor, Kerrs has seen an increase of 200% in daily output in its product lines and a saving of five personnel that had previously worked on these lines. So, its decision to invest in a second machine was an easy choice.
Meanwhile, Sussex Bakes was keen to supply a national foodservice customer, which was looking to use bite-sized meringue 'kisses' as a component in a high-volume showcase dessert. Having worked on the development of the meringue using hand-piping methods, which achieved the desired handmade marbled effect, the next challenge was to replicate this look across tens of thousands of individual meringues.
"We had been using a Polin depositor for muffin production and experimented using the same machine for this line," says Rob Pollard of Sussex Bakes. "Having replaced the product head and selected an attractive fluted nozzle, our machine allowed us to consistently 'pipe' more than 8,000 good-looking kisses – and we won the contract, which has led to additional customers placing orders for similar lines."
Single solution
So, the use of a versatile depositor can solve many different product issues in a single bakery.
Brook Food supplies the Polin Multidrop depositor and prides itself on the fact that this offers a 'one machine does it all' solution. As well as wire-cut products like cookies, shortbread etc. and sheeted sponge and doughs, pretty much anything that can be piped can be deposited through the Polin Multidrop. So, for large quantities of choux, Viennese biscuits and meringues, as well as the cut/sheeted products, there is a one-stop solution, that is able to create many hundreds of products on one machine, offering substantial labour-saving.
"We purchased our Polin Multidrop nearly two years ago and have it running for eight hours, six days a week,' says Archie Patterson of Nevis Bakery. "It's reliable and doesn't give us any trouble. I've found that work that used to take four bakers 10 hours a day is completed automatically in two hours using the precise wire-cut facility on the machine."
The Polin Multidrop features intuitive 7-inch colour touchscreen controls and easy product programme set-up, allowing users to develop creative new products. Products that can be made using nozzles and outlets include: cupcakes and muffins with and without inclusions; choux pastry such as profiteroles and éclairs; sheet cakes and shortbreads; meringues – either individual nests or fingers; macaroons; Viennese biscuits; as well as depositing swirls of icing on to other products and much more, including wire-cut biscuits and cookies in standard shapes, such as round, square and hearts, along with bespoke shapes to suit a bakery's requirements.
For more information on the Polin Multidrop, visit the Brook Food website here.
1 Scottish Health Survey 2018, Scottish Government, https://tinyurl.com/tgkee7a