It's not exactly a revelation that hot beverages and bakery items are a good match. After all, a cuppa and a slice of cake has been a favourite combination for generations.
However, there's no doubt that the relationship has been cemented by one of the retail phenomena of the last quarter century: the coffee shop. It's no exaggeration to say there has been a cultural shift in the way UK consumers have embraced all kinds of coffee over the last few decades.
"We have all explored the diverse range of coffee available, thanks to the extensive and high-quality variety in high street cafés," says Mark Stevens, group relationship director at equipment solutions provider Scobie McIntosh. "The nation embraced this, and now in the UK coffee consumption has reached over 95 million cups per day – a staggering figure."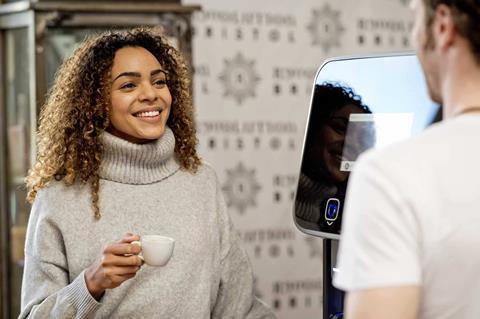 Pre-pandemic ritual
Before the pandemic, large coffee chains and independents alike had long been the beneficiaries of consumers' journey-to-work ritual of an Americano or latte accompanied by croissant or pain au chocolat – along with a lunchtime caffeine top-up with sandwich, pastry, pasty or pie.
It made sense, then, for dedicated bakeries to mirror the established trend and offer brews along with the bakes.
"Offering hot drinks alongside the hero bakery products not only enhances the shopping experience but also increases customer spend," says Karen Dear, director of operations at the Craft Bakers Association (CBA).
Hoxton Bakehouse is one such business set up to work on this model, with five outlets across south east England.
"Hot drinks create a great opportunity to increase morning good sales along with afternoon pastry sales," says co-founder Darren Bland. "Our whole menu ethos is based around a handheld pastry in one hand and coffee in the other and making sure they complement each other."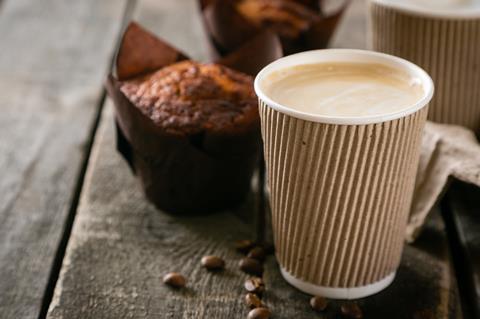 The Covid-19 effect
But what of Covid-19? How much has it changed business and opportunities for the model?
"No change!" says Bland, explaining Hoxton Bakehouse stayed open during the pandemic, having been deemed 'essential' under government restrictions.
Fletcher Bowley, head of sales at coffee supplier Caravan Coffee Roasters, even suggests the unusual situation has worked in favour of the market.
"Bakeries have been allowed to stay open throughout the different restrictions, so they have built up substantial following and trade from this, with customers relying on them to provide their 'daily fix' and have coffee available seven days a week to take away hot or in bags to brew at home," he explains.
Trade is bound to increase as the UK progresses further along its roadmap towards the lifting of restrictions. However, it's widely expected that there will be no return to the 'old normal', and habits established during the pandemic – such as working from home – will endure to a certain extent.
I'm amazed that you wouldn't consider having a coffee or a hot beverage offering as an independent baker
According to consultants Andrew and Claire Bowen – self-styled 'Coffeepreneurs' and authors of café owners guide manual The Daily Grind – this won't necessarily cause a seismic shift in the hot beverage and bakery market.
"People will need that social interaction," says Claire Bowen. "So, working from the coffee shop or bakery and getting out and having social interaction is going to be really important to people because they've realised during the pandemic that they've missed that connection."
Stevens of Scobie McIntosh agrees there is pent up demand in the market. "Nationwide people are talking about this being one of the main things they have missed the most throughout the pandemic and the three lockdowns – the freedom once more to meet for a great tasting coffee, and a delicious pastry with family or friends," he says. "For bakers this is great news and a huge opportunity."
Andrew Bowen concedes that geography will have a big impact on potential. "If you're in the city, for example, where foot traffic might be 35% of pre-pandemic levels, then your business is really going to struggle," he says. "But if you're in a market town, commuter belt or suburb where people live rather than work, then you're going to see a massive opportunity."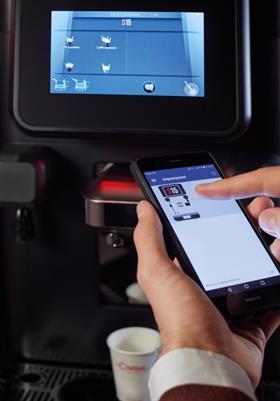 Time for a brew?
One of the many effects of pandemic on bakery has been businesses taking the plunge in areas they'd considered before or earmarked for further development in the future – such as online sales and home delivery – so perhaps the time is right for hot beverage expansion.
"A lot of the interest is coming from operators who may not have considered the potential of coffee before because the focus has always been on the baked goods," says Daniel Clarke, managing director at coffee machinery manufacturer La Cimbali.
"But lockdown has created an opportunity to reassess their whole operation and to look for new ways to generate additional revenue streams, coffee being a prime example," he adds.
Andrew Bowen certainly thinks the time is right to get brewing. "I'm amazed that you wouldn't consider having a coffee or a hot beverage offering as an independent baker," he says.
Likewise, Caravan Coffee Roasters' Bowley says bakeries "have never had a better time to convert sales of hot beverages, and in particular coffee, to the customers that visit them".
Investment opportunity
While many businesses feeling the pandemic pinch might not be in the mood for investment right now, Andrew Bowen insists it's a great time to spend money. "You can claim 130% on your capital allowance at the moment so if you've got any cash, now is the time to spend it," he says.
Bakeries have never had a better time to convert sales of hot beverages
Hoxton Bakehouse's Bland reckons somewhere between £10,000 and £14,000 will be enough for a quality espresso machine, plus grinders. "Then you have to think about barristers and training," he adds.
There's also upkeep of the machines to consider, as Stevens of Scobie McIntosh points out. "It is important to note that coffee machines that have a steam boiler or filter must be serviced annually for legal compliance of the Pressure System Safety Regulations 2000 (PSSR)," he explains. "Failure to have this test carried out would invalidate your warranty and insurance."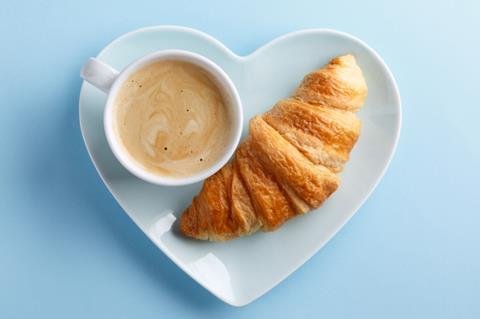 Quality counts
Don't overlook probably the most important element, though: the beverage itself.
"You need to source good quality espresso beans from a roastery," insists Bland. "In our stores we want the coffee to match the quality of our bread and pastries so it's important to us that we invest these costs."
So, what does a decent offering look like?
"A bakery should offer espresso-based coffee served black or with milk, including dairy and non-dairy milks, with the possibility of including batch-brewed filter coffee," says Caravan Coffee Roasters' Bowley.
People are desperate to meet, face-to-face, somewhere warm, comfortable and with the very best quality refreshments in a friendly environment
It's not all about coffee, though. Other hot beverages are on the rise. Dear of the CBA points to Mintel research from March 2020 showing tea represented 43% of out-of-home drinks, compared with 39% for the previous year.
It's important, therefore, for bakeries to balance their beverage options. Hoxton Bakehouse, for example, offers a "simple coffee menu with all the crowd pleasers, a really good hot chocolate and small tea offering".
Bowley also advocates the offer of "a selection of specialty teas and drinks powders which can include matcha and chai".
Full steam ahead
So, with spring in the air and Covid-19 restrictions gradually lifting, it seems a hot beverage offering could be the ideal way to bring some much-needed warmth to customers' lives.
"People are desperate to meet, face-to-face, somewhere warm, comfortable and with the very best quality refreshments in a friendly environment," Stevens summarises. "This is where bakers have a real opportunity to capture the hearts and minds of the huge hot drinks lovers' market."
Wenzel's lockdown caffeine boost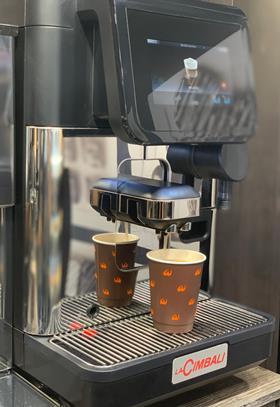 One bakery business that has benefited from its hot beverage offering over the last 12 months is Wenzel's the Bakers.
Wenzel's partnered with La Cimbali to install S20 and S30 super-automatic bean-to-cup machines across the estate, most recently at new bakeries in Kentish Town, Stevenage, Brentwood and Ealing Broadway, which all opened for business while most of the UK was in lockdown.
The machines, which use fresh milk and beans, feature touch-screen controls and patented technology that regulates the brew cycle. The S20 can deliver 200 cups of coffee a day while the S30 can achieve 300 and also incorporates a grinding system.
Like many bakeries, Wenzel's made the strategic decision to remain open for business through the Covid-19 crisis. "We decided to power ahead with the launch of the new sites despite what was unfolding around us," says Attila Juhasz, operations director.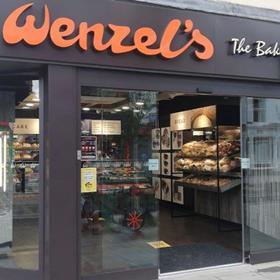 "We worked with Cimbali prior to the machine installs to implement safe working practices, with the health and safety of staff and customers our main priority," he added.
"Our new shops have opened as planned, and we have been able to keep customers happy with a full range of delicious, Lavazza specialty coffees across all our stores, which I am delighted about."