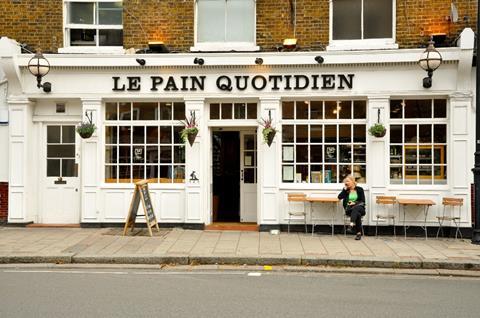 Le Pain Quotidien (LPQ) owner BrunchCo UK has revealed its re-opening strategy for the café chain including a string of new hires and a refreshed bakery menu.

LPQ was sold to BrunchCo UK in a pre-pack deal earlier this year after administrators were appointed. BrunchCo UK bought its UK business and assets for 15 of its 26 sites (see full list below), with its head office and 11 remaining sites closed immediately resulting in 200 redundancies.
Steven Whibley, an original franchisee of LPQ UK and formerly of Gail Bakery, has been appointed as managing director while former operations chef at Ole & Steen Andrew Tottle has joined as head of food. Faye Hance, who has previously worked for Wagamama and Five Guys, is now head of people.
All three are charged with restoring the quality of Le Pain Quotidien's food, drinks and service, BrunchCo UK said.
"We wanted to create a buzz on our return to baking. We also wanted to remind our teams and customers that we are first and foremost a bakery, which also happens to serve fresh, healthy, delicious food and now even better coffee," said Whibley.
In his new role, Tottle was tasked with improving LPQ's bakery offer. The 2kg organic wholewheat sourdough remains on the menu but is joined by an 800g dark rye loaf alongside two specials every weekend. A gluten-free buckwheat loaf has also been added. Vegan cinnamon buns, available as a single portion or in packs of six or 12, have also been added.
LPQ has also rolled outs its autumn menu which features 'bread end' waffles – made with its organic sourdough bread ends which are soaked overnight and added to the waffle batter – as well as gourmet sandwiches such as the croque croissants and VLT with roasted mushrooms, aubergine, lettuce and tomato on a brioche bun.
The bakeries have also been refurbished to make them 'more comfortable and safer', while improving their retail offering.
"We worked hard while our doors were closed on reviewing what we can do better. We've looked to bring the right people around the table to create a quality all day offering," added Whibley. "We have a passion for real food and real choice, ethical sourcing, and a commitment to zero waste."
Food to go is another big focus for LPQ with more of its range now available via delivery platforms Deliveroo and Uber Eats. It has also launched an online ordering platform for click and collect.
Its catering offer has also been expanded with brioche sandwiches, quiches and sweet tarts with meal deals for six to cater to current group-size limitations.
The full list of LPQ sites in London and Oxford now open are:
Marylebone High Street
Kendal Street – Connaught Village
Aveda Institute – Holborn
Hampstead High Street
North Audley Street – Mayfair
Victoria - Wilton Road
Royal Festival Hall – Southbank
Parsons Green
South Kensington – Exhibition Road
Notting Hill Gate
St Pancras International
Tottenham Court Road
Monument – City
Canary Wharf
Covent Garden
Oxford