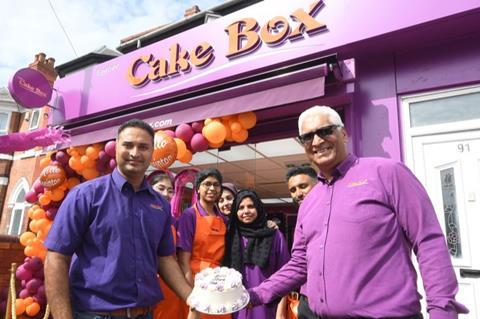 Celebration cake specialist Cake Box has cut the ribbon on its 200th store in UK.
CEO Sukh Chamdal described the opening in Sneinton (Nottingham) as a "fantastic milestone" in the company's journey.
"Having started from a single store in east London, I never expected such welcoming customers who instantly become regulars and helped me realise we could solve the problem that people have throughout the UK when buying a personalised cake; paying over £100 and waiting a week for it," Chamdal said. "I look forward to seeing the success of Cake Box Sneinton."
Cake Box started life in 2008 when Chamdal first hit upon the idea of egg-free cakes in the celebration market. The company has grown steadily since then and has been listed on the London Stock Exchange since June 2018.
According to Cake Box, there has been a "rapid increase" in demand for its celebration cakes, cheesecakes, cake slices and cupcakes, and the company said it is "proud" to be reaching an increasing number of customers with its "strong pipeline" of new franchise outlet openings, including stores within Asda supermarkets and shopping malls.
"All our customers can have their cakes personalised and ready within an hour," Chamdal said. "We also understand that customers like to shop online, and we can serve them via our website. They can also take advantage of collection in store, or delivery."
Despite the reported increase in demand, in August the company warned that its full-year profitability was expected to be 'significantly below' market forecast. This, Cake Box said, was due to the "worsening outlook" and increasing cost of living pressures on the consumer.
In Cake Box's last full-year results, published in June 2022, the directors said they remained mindful of an "increasingly challenging" environment despite "robust" trading at that time.