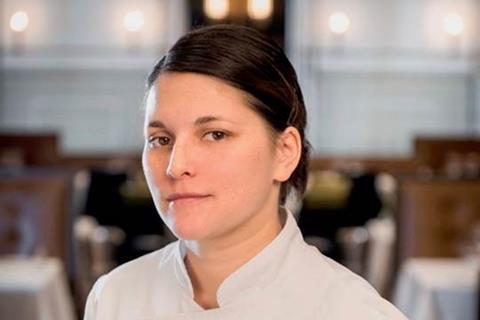 Former Claridge's pastry chef Kimberly Lin is to launch a pop-up store in Covent Garden on 5 December.
Called Floozie Cookie, the three-month pop up will serve Lin's signature stuffed cookies – all of which are vegan.
The menu includes Cinnamon Crunch and a Celebration Cookie, as well as a seasonal cookie, which will change every month. Plant-based milks and hot chocolates will also be available.
Its line-up comprises:
Cinnamon Crunch – a handmade vanilla cookie, coated with crispy cinnamon cereal, stuffed with speculoos cream and topped with an icing drizzle
Chocolate Chunk – a blonde cookie packed with milk and dark chocolate pieces, filled with a soft dark chocolate ganache and topped with a dark and milk chocolate melt
Celebration Cookie – a pink vanilla cookie coated in rainbow sprinkles and filled with raspberry jam
Pecan Pie – a butterscotch cookie stuffed with toasted pecans and soft date caramel
PB&J – a gluten-free peanut butter cookie with raspberry jam, topped with an icing drizzle and toasted peanuts.
The cookies, with prices from £3.50, will be available from 10am to 7pm for collection from the Covent Garden site, as well as additional delivery points via Deliveroo, from Tower Bridge, Victoria, Clapham and Oxford Circus. Floozie Cookie will also provide UK-wide delivery.
The site, which is situated on James Street, provides fifteen covers. Complete with art deco accents, its blue, purple and red interiors were designed by Lin.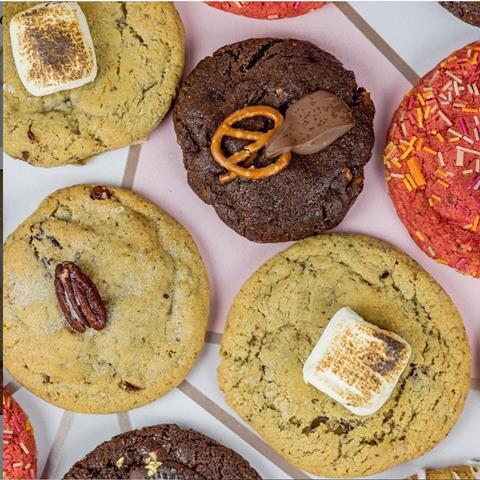 "If the pandemic hadn't happened, I would never be here. Like many chefs I always had a fantasy project in my head; to offer a simple treat within a luxury art deco store design. I chose the cookie because it has always struck me as underrated and overlooked but to me it expresses care, skill and creativity," said Lin.Formerly a pastry chef at Claridge's, she has also worked at Corinthia, The Savoy, and most recently as development pastry chef at hospitality firm TGP for brands such as Dominque Ansel Bakery.
"I've always loved the joyous rebellion of the 1920s that came after the wartime economy; the flappers and the floozies, I love it all, and where I drew inspiration for the name Floozie Cookie."