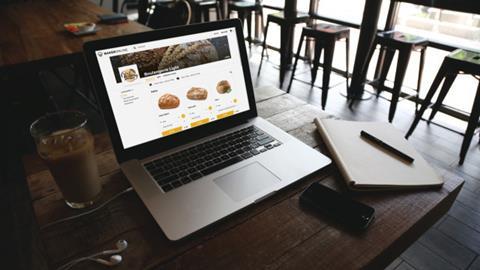 Bakery ingredients supplier Puratos has teamed up with online service Bakeronline to offer web shops to bakeries amid the Covid-19 pandemic.
Bakeronline, which originated in Belgium, is helping businesses launch their own web shops from this week. The service is free for the first three months and there is no obligation to purchase, said Puratos.
"During these uncertain times customers are looking for new ways to order and pay online and, ultimately, spend less time in-store. Bakeronline allows bakeries to create personalised web shops within 72 hours," said Lee Burnside, sales director at Puratos UK.
The sites will include branding and imagery, up to 20 products listed, online payments and an email system to contact customers directly.
Bakers will also receive help with SEO (search engine optimisation), three months' free service, insight to help plan production and tips on how to promote the web shop online and in-store.
"The Bakeronline system has been running throughout Europe for a number of years within various bakeries. Puratos is proud to be offering this service free of charge for three months from the launch of your web shop in order to support the industry," Burnside added.
Bakeronline is currently available in the UK, Belgium, France, Spain, The Netherlands and Germany. The service is set to roll out across the globe.
Bakeries seeking to launch a web shop can contact Puratos via email, and should include Bakeronline in the subject line.
With the coronavirus crisis driving demand for online shopping and delivery, a number of services have been developed including one from Bako and another from Redblack Software.