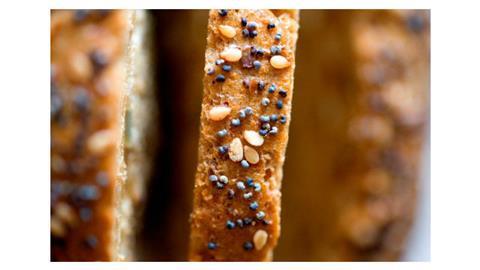 Today marks 90 years since the first sliced bread was sold by the Chillicothe Baking Company in Missouri, America.
Otto Frederick Rohwedder of Davenport, Iowa, had invented the world's first bread slicing machine – it could slice one loaf at a time. He chose 7 July as the release date for the first sliced loaf because it was his 48th birthday.
The advertisement read: "The greatest forward step in the baking industry since bread was wrapped."
This is believed to be the origin of the far better-known saying we know today, 'the best thing since sliced bread', but also suggests that before sliced bread, the 'best thing' was in fact wrapped bread.
Rohwedder had come up with a prototype for the machine 16 years earlier, but it was destroyed in a fire.
The machine was bought by the Chillicothe Baking Co in 1928, and their Kleen Maid Sliced Bread proved an instant success.
A second version of the machine was bought by a baker in St Louis – this included a way to keep the slices together by aligning them in a cardboard tray, which meant the bread could be wrapped as well as sliced.
This machine is now preserved in the Smithsonian Museum in New York – the first one fell apart after six months of heavy use.
Consumption of bread increased after the invention of the slicing machine, because slices were thinner than the hand-cut versions, so people could eat more. It was also more convenient to eat bread more frequently when it didn't require slicing. Spreads such as jam and honey also saw a huge surge in popularity thanks to the invention.
But the sliced bread boom ground to a temporary halt in 1943 when American officials placed a ban on it in order to free up steel and conserve stocks of waxed paper, for the war effort.
But a letter appeared in the New York Times shortly afterwards, from a housewife who wrote: "I should like to tell you how important sliced bread is to the morale and saneness of a household.
"My husband and four children are all in a rush during and after breakfast. Without ready-sliced bread, I must do the slicing for toast – two pieces for each one – that's 10.
"For their lunches, I must cut by hand at least 20 slices for two sandwiches apiece. Then I make my own toast – 22 slices cut in a hurry!"
The ban lasted just over two months, after it was found the savings weren't as much as expected.
The first slicing and wrapping machine In the UK was installed in the Wonderloaf Bakery in Tottenham in 1937 – by the 1950s, the sliced loaf accounted for 80% of the British bread market.
Sources: The Sunday Post, The Telegraph, Time.com