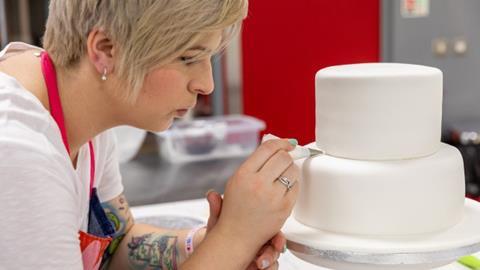 "It was a long time coming," says Shuga Budz owner Amelia Nutting on winning the Celebration Cake Business of the Year category after being a finalist four times.
"It was nice to finally get the title," she tells British Baker, adding it felt "wonderful" to be presented with the Baking Industry Award (BIA) last year.
Nutting was 17 when her mum founded Shuga Budz and started to make and sell cakes, with Nutting joining the business soon after.
Shuga Budz first entered the awards category in 2008 (when it was then the Cake Maker of the Year award), and has continued to enter since, determined to win. "We had to keep entering," says Nutting.
Last July, when the business learned it had become a finalist once again, the team of six that makes up Shuga Budz "squealed", says Nutting, while her mum burst into tears.
And it was her mum who accompanied Nutting to September's awards ceremony, hosted by Pussycat Dolls singer Ashley Roberts at the Royal Lancaster hotel in London.
Nutting believes their success was partly down to hitting the judges' brief well.
The winning entry, a futuristic cake displaying a spaceship, comet and alien creatures, was crafted to fit last year's cosmic theme. Nutting iced the base in four layers of colours, cut out replica black holes and used lustres of gold and silver to pick out the planets.
"Our design was clear – you could see exactly what it was meant to be. I think it just had a little more finesse and precision than the others."
It means a lot to the business to win.
"We've got recognition for our hard work. We are very proud – we create every day, so it's really nice for other people to see our skills."
Nutting has advice for other celebration cake firms considering entering the awards: "You can't win if you don't enter. It's always good to do so, as you never know who can win."
She adds: "Believe in yourself, because if you don't, no one else can. And make sure that anything you do, you do it to the best of your ability."
As for the future, Shuga Budz is getting ready for the year ahead and Nutting hopes to secure more big commission pieces to get their name known further afield.
"We just want to keep it going, keep our standards high and see where the future takes us.
Sponsor's comment
"Amelia's cake captured the 'cosmic' brief perfectly – she designed an action-packed cake that was well balanced, cleanly executed and showcased her talents as a cake-maker brilliantly."
Suzanne Thorp, independent judge