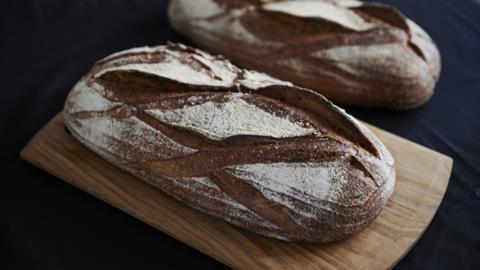 It doesn't get more on-trend than Lovingly Artisan's Kombucha Sourdough, which taps demand for gut-friendly ingredients, as well as ancient grains.
Coupled with its great taste and moist crumb, it's no surprise that it won Bakery Innovation of the Year at the 2019 Baking Industry Awards.
The loaf brings together kombucha, a fermented drink made from sweetened dark tea by local firm The Plucky Pickle, combined with emmer and organic stoneground wheat flour. Total ferment time is over 24 hours and the loaf has 75% hydration.
But as Catherine Connor, marketing director at the Kendal-based bakery, says it's about so much more than being on trend. "We still want to be everybody's humble baker, we don't want to lose sight of that," she says. "It's really important to us that what we produce has a positive impact on people. You can have a counter full of anything, but we want ours to be full of things that really help people."
The idea for the loaf was sparked by Catherine's research into gut health. In doing so, she took part in a kombucha-making course, in which she learned about its many health benefits – from helping to reduce cholesterol and blood sugar to improving mental health.
With similar benefits to ancient grain emmer, she pitched her idea to husband and Lovingly Artisan's director and baker Aidan Monks. "We're at our best when we collaborate," she explains. "This was one of those occasions where we knew we'd hit onto something."
The development was quite a simple process but one that resulted in a loaf beloved by the BIA judges as well as Lovingly Artisan's regular and new customers. This was helped, in part, by the positive press and social media coverage garnered by the awards success. "The very next day we sold out. It went mental," she says.
Further press coverage helped the momentum to build, with hopeful customers queueing for a fresh loaf. "People ask for it like they have found the Holy Grail," Catherine adds.
"The awards are very good for our mindset," she explains. "When you're running your own business, there is nobody pioneering but you. We need industry awards to be our beacon of light, our benchmark and our reason, because after that there is just a very long day."
Sponsor's comment
"The most important aspect of our winner is taste, and the product tastes fantastic. I was struck by the care, craft and thought from selection of ingredients to delivery."
Alan Black, head of out-of-home marketing at Stork/Upfield