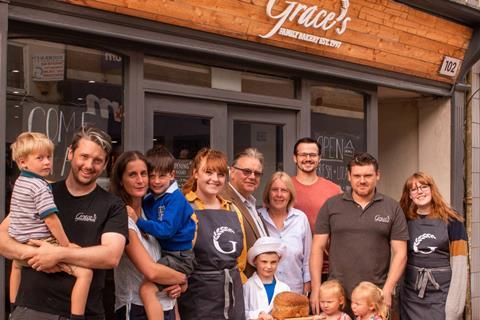 Sarah Redrup, marketing manager at Grace's Bakery, was delighted – but surprised – with the company's success at the Baking Industry Awards after a year of uncertainty.
"We really weren't expecting to win. We've never made it to the finals before or been nominated, so it was fantastic. After the year we've had, it feels good to have some sort of recognition that we did well," she told British Baker after Grace's Bakery won the Customer Focus Award category, sponsored by Lumina Intelligence, at the 2020 awards.
The accolade was the cherry on top of a year in business that saw the Isle of Wight-based bakery reap the rewards for adapting quickly to the pandemic.
Despite being worried that they would lose the business, the team started a home delivery service, garnering much interest from local consumers. This was followed by a new website, which Sarah's brother turned around in a week.
We achieved a mammoth task, so I thought it was good opportunity to enter
Redrup believes that the bakery industry has proven itself to be an essential part of local communities. She notes that Grace's ability to look beyond its core service was what made the bakery stand out.
"We went the extra mile to make things far more exciting and do things for our community. We achieved a mammoth task, so I thought it would be the best time for us to enter the awards," she said.
Throughout lockdown, the bakery slipped 'Golden Tickets' into random orders every Wednesday. Designed to resemble Willy Wonka's famous tickets, they enabled customers to get £10 off their next orders.
Grace's Bakery also held a cake design competition. Once two winners were selected, the team brought their visions to life. The winners then chose an organisation to donate the cake to, such as a local hospital.
UK-wide delivery
Grace's Bakery, which was founded in 1997 by Ray and Carole Redrup, began as a single shop with an upstairs bakehouse. Now, it has six shops and over 60 wholesale customers.
Sarah joined the family business in 2017 and focused on modernising it with a rebrand.
Fast forward to 2021, and the bakery has expanded its vegan range with bakes such as dark chocolate brownies, cranberry & pecan flapjacks and mince crumble slices. In addition, it has also rolled out a new Vegan Gift Box, which contains a selection of sausage rolls with mango & apple chutney.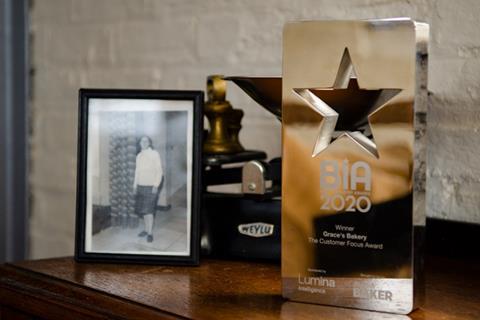 Belgian buns still reign supreme as the bakery's standout product. Ray Redrup cites them as Grace's most popular item since the bakery opened, according to Sarah.
Looking to the future, Grace's hopes to offer deliveries outside the Isle of Wight. Currently, the bakery has three drivers that deliver orders to homes across the island.
"We want to start expanding our home delivery to the mainland UK and through the post. We'd like to start sending Isle of Wight produce everywhere," said Sarah.
Local community
The pandemic has taught the Redrups the importance of forging connections with local communities.
"We started hearing a lot more stories of people we'd helped. Some customers were worried about their parents or grandparents living alone on the Isle of Wight, so we sent them little gifts and hampers," Sarah explained.
Shoppers seem to have a much bigger drive towards shopping local
Bakers thinking of entering the BIAs should focus on the customers they serve every day, she added.
"It doesn't have to be nationwide or even global. Even something as small as being there for elderly people who want to come in for a chat or who are a bit lonely is in itself impressive. Shoppers seem to have a much bigger drive towards shopping local," she added.