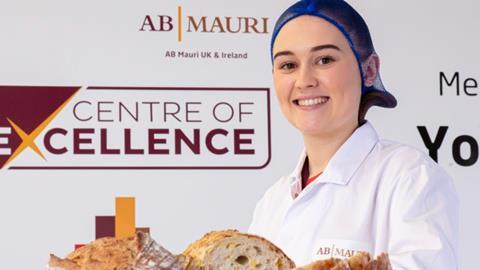 Before taking the crown in 2019, Megan Roberts had been a finalist in the Baking Industry Awards' Rising Star category twice – once in 2016 and again in 2017.
Despite this, she says she was still overwhelmed when her name was announced on the glitzy September evening.
"Because I'd been there a couple of times before, I had to double check that they definitely said my name," she says. "There was this overwhelming sense of 'I've actually done it'."
An accolade such as this focuses people's attentions, which Megan admits can be scary at first.
"Once you're on stage people start putting names to faces so that can be quite intimidating, but the end result was definitely worth it."
Although Megan already had her job as a research and development technologist at ingredients supplier AB Mauri by the time she won, she says even being a finalist opened a lot of doors.
"I used the feedback from the judges both times constructively and tried to apply myself to as much as I could in the industry before re-entering," she explains.
This included a summer internship at Zeelandia, work experience at a number of bakeries, becoming a student ambassador for Dawn Foods and working as a demi chef de partie (pastry) at Harvey Nichols in Birmingham, alongside her studies at University College Birmingham.
"You learn so much more about what you can do," she says.
Megan explains her day job is a varied one that involves developing new products for market. This includes researching in the laboratory, test baking and also analysing any resultant products. But though Megan loves her job – particularly anything bread-related – bakery wasn't always her plan.
"I started off wanting to be a chef," she says, "but the hospitality from the bakery industry was so welcoming and so willing to invest in people coming through, it drew me in."
Now she is even a member of the British Society of Baking's executive committee. As for future generations of bakers, Megan believes there are many opportunities out there.
"So many people let me into their bakeries when I was learning. Students, and people who want to get into the industry, need to have the confidence to go out there and ask."
Sponsor's comment
I am so pleased for Megan, her tenacity and love for the industry shone through. She is a truly gifted young lady and her future employers are very lucky to have her
Richard Tearle, general manager, Rondo