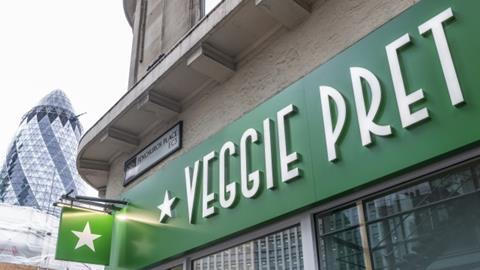 Pret is to this week reopen its Veggie Pret stores and is launching a delivery service with Deliveroo.
The 10 Veggie Pret shops in London and Manchester, which have been shut during the coronavirus pandemic, will reopen on 11 June, with safety and social distancing measures in place.
They will reopen for takeaway only and will offer a reduced menu of vegan and vegetarian favourites. Seven of the 10 shops, including the Manchester site, will offer deliveries for the first time by Deliveroo.
Veggie Pret was developed in 2016 and was expanded in early 2020 with three new locations.
"We are excited to be reopening all 10 of our Veggie Pret shops this week," said Clare Clough, UK managing director of Pret A Manger.
"We know that many of our customers are working from home and missing their plant-based favourites, so partnering with Deliveroo means that more customers can access our veggie and vegan menu."
Deliveroo global health director Tom Peters added that his company had seen a surge in demand for more plant-based options, both from vegan customers and customers wanting to cut down on their meat intake.
Pret has recently announced plans to reopen around 300 of its sites. Several shops in railway stations, such as King's Cross, Manchester Piccadilly and Leeds, will open for takeaway from today (8 June), while a number of shops located in shopping centres around the country will begin to open from next Monday.