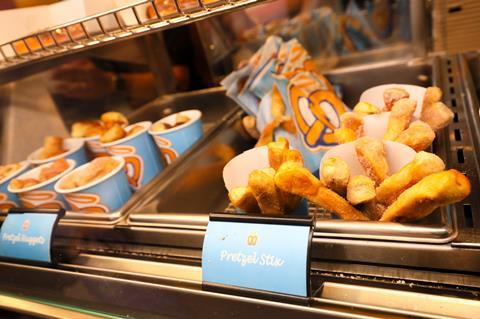 Pretzel Logic UK, a franchise of Auntie Anne's, has secured funding through the Coronavirus Business Interruption Loan Scheme (CBILS).
When lockdown hit, Pretzel Logic's turnover dropped from over a million to zero overnight, as it shut down for over three months, says managing director Robert Granicz.
The loan, provided by finance firm Iwoca, provided urgent funding and helped the business move towards new opportunities, it said. It prompted Granicz to renovate the kiosks, adding Perspex screens, as well as offering PPE and training to staff.
"The opportunities coming up now are geared more towards delivery service than conventional retail services," said Granicz.
After 'falling in love' with Auntie Anne's pretzels while growing up in Canada, Granicz moved to the UK to launch his own franchise. He went on to secure franchise rights across the Midlands and opened up the first store in Leicester in 2012. This was followed by others in Peterborough, Birmingham (Solihull) and Nottingham.
The 'grab and go' industry missed out on government support such as the Eat Out to Help Out scheme, he added. Restaurants and pubs were able to serve customers at a significant discount, while Auntie Anne's didn't have access to this.
"It was an immediate issue just to reopen. We were not only faced with zero cash flow, but all of a sudden, another £20,000 going out the door. Of course, at the beginning of March, nobody thought they'd be dealing with something like that," he added.
Christoph Rieche, CEO and co-founder of Iwoca, and his partner James Dear, started Iwoca in the great recession 10 years ago. Scores of SMEs were cut off from access to finance then, and we will do our utmost to avoid a repeat of this, he said.
"I'm delighted to count Pretzel Logic among our CBILS customers and wish them all the success in the world. The government loan schemes are survival lifelines for millions of business owners across the UK and we want to help play a major role in getting them back on track," said Rieche.