Plastic is a divisive topic. While it has its place, single-use plastic has garnered a truckload of bad publicity, meaning many businesses are looking to reduce their reliance on it.
This is true of many craft bakeries but with supply issues, rising ingredients prices and staffing issues to contend with, it might not be top of the agenda.
So, where should a small operation start when it comes to ditching the plastic habit? What additional challenges will it face? And is the goal of being plastic-free achievable?
The resounding answer from those in the know to the last question is 'yes' – but it does come with caveats. "You have to be committed to what you are doing," believes Catherine Connor, co-owner of Kendal-based sourdough specialist Lovingly Artisan. "There really can't be any half measures otherwise you will ultimately fail and have to start all over again."
There really can't be any half measures otherwise you will ultimately fail and have to start all over again
Laura Slack, environment and sustainability manager at Honeywell Biscuit Co, says it will "unlikely be a quick process" but believes being plastic-free is ultimately doable.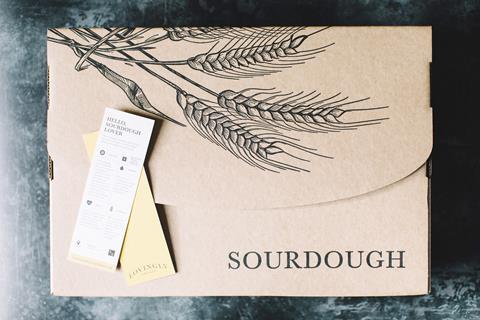 As for where to start, Connor advises beginning with the packaging used to provide customers with their baked goods – a move which is likely to be easier for those where products are produced and sold on the same site, as deliveries add another layer of complication. Lovingly Artisan has opted for wax paper bags which Connor says can be reused before they are sent for recycling with household paper and card.
Pettigrew Bakeries in Cardiff, meanwhile, went with single-use paper bags with compostable windows, while offering a discount to shoppers who take advantage of reusable bread bags. A similar discount is also open to those who bring a reusable coffee cup rather than using a disposable one. The independent business, founded in 2016 by David Le Masurier (pictured above), has gone so far as to ensure there's no plastic packaging on all products and drinks sold, with even water sold in cans.
Got questions about how to make your craft bakery more sustainable? Then put them to our experts!
British Baker is due to quiz the below experts on what sustainability means for craft bakers.
Catherine Connor, co-owner, Lovingly Artisan
David Le Masurier, founder, Pettigrew Bakeries
Kirsty Allen, sustainability manager, Macphie
Paschalis Loucaides, UK Manager, Too Good To Go
The recording will be made available the w/c 28 February. To put a question forward, comment below or email amy.north@wrbm.com.
While he put sustainability at the heart of the business, he admits it wasn't always easy or cost-effective. "The first few years brought into sharp relief the struggle between cost-saving pressures and active plastic reduction measures," Le Masurier explains. "This is a tough business to establish and build a regular loyal customer base with very high investment costs, incredibly labour-intensive work and premium ingredient costs. You have to be driven and creative, especially in the early years, to drive changes in your business such as plastic reduction. It is cheaper and easier not to."
You have to be driven and creative to drive changes in your business such as plastic reduction. It is cheaper and easier not to
It's a theme also highlighted by Lisa Smith, owner of cake specialist Ginger Bakers, who says the cost is exacerbated by certain retail settings where products may need to be individually portioned before being transported and have a slightly extended shelf life. "There are compostable films, but the cost is prohibitive, especially for low-cost items such as individual bars or cakes," Smith says. "We're looking at paper-based films, which would be a good alternative for our flow wrapper, but even so the cost will still have a big impact on that of the end product as the set-up costs are high."
Operations
While there are easy wins, it's back-of-house operations which could prove trickier, although the benefits of reducing materials here can reap financial rewards due to savings on waste collections.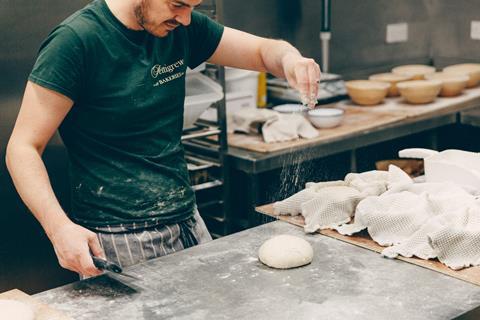 This journey starts when selecting suppliers to work with and, as such, Connor suggests choosing ones that have a similar ethos to your company to "neatly sidestep the issue of having to dispose of packaging". In essence, she says, "look to maltsters and flour suppliers who use traditional materials, which once used can either be repurposed or used again within the supply chain".
Bulk buying, if there's space to store ingredients or you use enough of them, is another option – a move which has paid off for Ginger Bakers. But Pettigrew's Le Masurier warns it can be a double-edged sword. "We have moved to bulk purchasing of some items such as baking powder. This gave us a better price, but single-use plastic packaging," he explains. "The smaller tubs could be reused several times for storage and also widely recycled. These examples are thankfully few and far between but show the complexity of making changes in the business."
Positive changes seen by Le Masurier include the use of secure reusable tubs by the bakery's local coffee roaster, while the premium lamination butter is delivered in packaging designed to keep it below 5°C using natural wool insulation with a return process in the pipeline for this.
It is important to remember that every single switch helps
Don't be afraid to push back on existing suppliers and wholesalers to see if alternative packaging options exist. "One of the main considerations is to really look into a product before making changes," Honeywell's Slack notes, adding that bakeries could look to reuse unavoidable packaging materials at their end as well.
Reuse is a key prong in the business' sustainability strategy, with piping bags offered up as an example of something used again and again before being recycled as Honeywell hasn't been able to source compostable versions for the time being. It is, however, on the verge of ordering its first batch of compostable bags for its home baking kits. "It is important to remember, however, that every single switch helps," Slack says. "Whilst being plastic free would of course be wonderful, if this seems too daunting then start with some simple changes and go from there."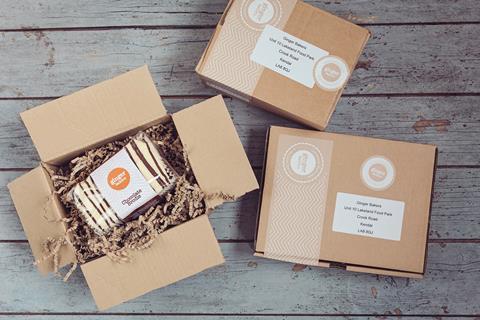 That's solid advice, particularly with many business owners trying to combat rising costs and getting things back on track after a tough couple of years thanks to the pandemic. While the latter directly impacted the use of plastic as some shoppers sought individually wrapped items, Pettigrew Bakeries, Lovingly Artisan, Ginger Bakers and co saw it as an opportunity to refocus.
"It's made us think really long and hard about what we are doing and how we as a business could be far more sustainable in what we create, and to that end we've begun examining alternative wrapping materials including cellulose-based packing," notes Smith from Ginger Bakers, which has been a member of Small Green Business for five years. However, she is candid about the feasibility of going plastic-free right now: "If we took away completely or significantly reduced our plastic packaging our ability to supply would be severely affected."
For businesses making changes it's important to remember that the process is a journey – one which Pettigrew's LaMasurier believes is worth taking. "We have come so far on our journey and it proves that pressure and focus drives a rethink across the entire supply chain," he says. "We now make better informed decisions about who we work with and the products we use."