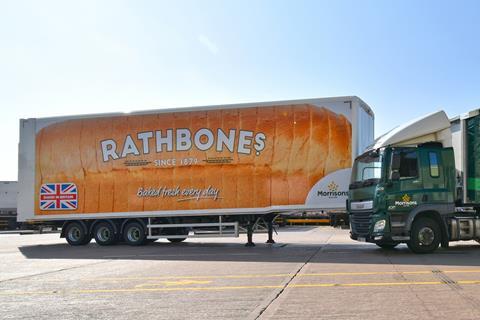 Morrisons has boosted its fleet serving the Rathbones bakery in Wakefield with 25 new vehicles.
The supermarket has taken delivery of the lightweight moving double deck trailers from Cheshire-based Tiger Trailers. Each have the capacity to hold 1,322 baskets – more than a 20% increase on the previous trailers serving the facility which could hold 1,080 baskets.
The new trailers feature 'highly distinctive livery' in the form of a 'naked' loaf of bread.
Rathbones produces nearly 50 types of products for the supermarket including hot cross buns, seeded loaves, crumpets, pancakes, naans and pitta.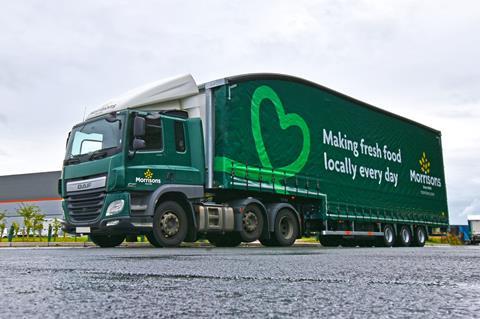 Morrisons has also ordered 125 tri-axle step frame curtain-sided double deck trailers from the firm (pictured right). They're capable of transporting 44 pallets, as opposed to 26 previously, as well as cages. They allow Morrisons to delivery 'more products in fewer miles'.
It has historically utilised temperature-controlled box van trailers to undertake the majority of deliveries to its circa 500 stores throughout the UK, but the supermarket's team, echoed by Tiger Trailers' design engineers, identified that ambient moving double deck trailers would increase efficiency and versatility, Tiger Trailers added.
Tiger's ambient moving double deck curtainsider trailers for Morrisons feature an internal gate rated to 10 tonnes, the manufacturer's in-house 4-ram deck-lifting system, an aerodynamic roof design, EN 12642-XL rated components, plus Tiger's 'Captive Rave' load securing and restraint system.
"We're very pleased with our new ambient double deck trailers from Tiger, which are the result of our teams working closely together to achieve a new solution for our fleet. The trailers' extra capacity and versatility signify an innovative step forwards and we're delighted that they carry our new branding elements and messaging, 2020 having galvanised the customer relationship in an unprecedented way," said Morrisons head of transport Keith Boulton.
"These multi-deck trailers have also provided us with an opportunity to roll out our latest Morrisons branding that is being introduced across our logistics, fuel and home delivery fleet," added Justine Manley, brand and formats design director, Morrisons.