A Wild Hops & Barley Loaf from Peter Cooks Bread in Herefordshire took home the ultimate title of Britain's Best Loaf 2020. British Baker caught up with its creator to find out more…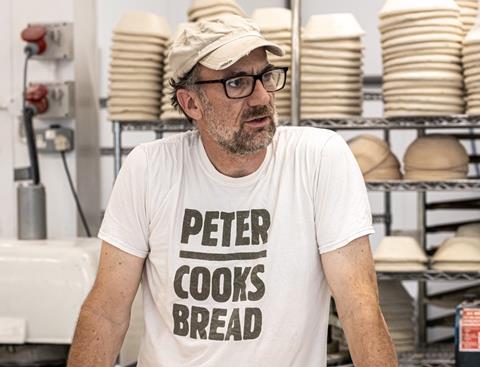 "It took a while for the news to sink in," admits Peter Cook, founder of Peter Cooks Bread and creator of Britain's Best Loaf 2020. "But now it has, we're absolutely over the moon."
This was the first time he'd entered the competition – which was sponsored by ADM, American Pan UK and Scobie McIntosh/Revent – simply because it was historically held on a Monday when he doesn't bake. So, to come home with the crown was astounding.
"I knew it was a good loaf with a nice story, but you never know what other people are entering," he adds.
Indeed, it was the story behind the loaf's development, as well as its overall look, internal structure, aroma and taste which secured it the top accolade. For the full list of category winners and highly commended loaves, click here.
The inspiration for the Wild Hops & Barley Loaf came from the view outside the bakery's door, which is nestled in the foot of the Malvern Hills.
"When I'm thinking about what I can do next, I look at what local produce is available. It's very hard to ignore it when the hops are growing in a field about 50 yards from the bakery door," Cook says.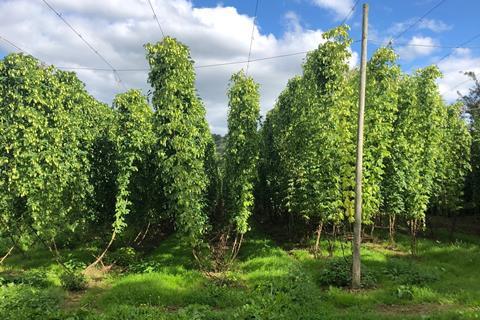 However, he notes, that hops come with an astringent flavour which isn't to everyone's taste, so he tasked himself with making it work in bread. As an ambassador for the Real Bread Campaign, sourdough was the natural choice as a base for his experiment.
Tea, it turns out, was the solution to the hop dilemma. The hops are boiled in water which was then used to create the sourdough starter along with organic Shipton Mill No. 4 Strong White Flour.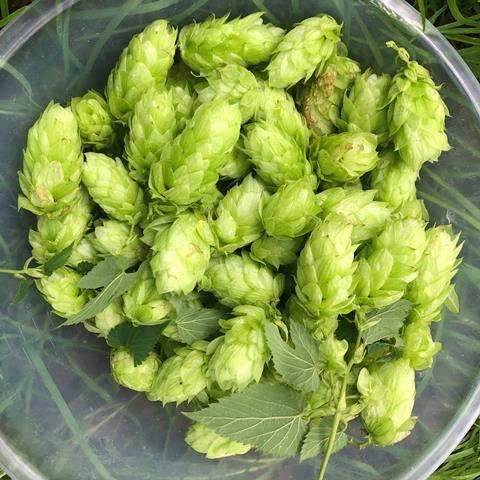 "I tried the loaf with just the hops sourdough, and it was nice, but it wasn't 'wow'," he says.
Enter barley. The bakery lies within a 10-mile radius of five micro-breweries – one of which is The Hop Shed. It's particularly special as it is located on a hop farm.
"It's all about collaborating with other people and using local ingredients as much as possible," Cook adds.
Taking inspiration from other ingredients in beer making, he approached the brewery with the intention of using spent grains in his innovative loaf.
"We toasted the grains in the oven to dry them out because otherwise they go mouldy fairly quickly. Then, as they're needed, they're soaked in beer overnight to add more flavour and to soften them."
The process of making Britain's Best Loaf takes three days. First, the starter is fed with the hop 'tea' which is left overnight. The next morning it is mixed with flour and water, then left for an hour to autolyse before the salt is added. The toasted spent beer grains are then added, before the loaf is bulk fermented for four hours, shaped and retarded overnight with baking taking place the next day.
It's a particularly special loaf to Cook because the bakery primarily serves wholesale clients meaning there is not as much room for experimentation as those with a shop.
That said, his customers were delighted with it – even more so after the win – with orders doubling. The Britain's Best Loaf trophy will also be doing the rounds, allowing customers who sell the loaf to display it.
"There was a lot of excitement and congratulations," he says. "It'll only ever be a niche product and a limited edition one as we can only get hops until the end of October.
"But we're already planning to bring it back next year when it'll be bigger and even more anticipated."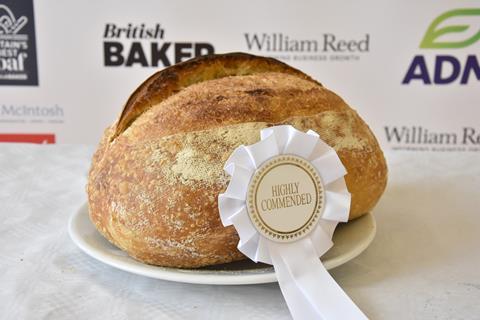 The Ledbury Loaf
The Ledbury Loaf, meanwhile, is a mainstay of Peter Cooks Bread and has been on the menu since the beginning six years ago.
It also secured an award at Britain's Best Loaf – Highly Commended in the White category.
"It's our bestselling loaf and is an everyday white bread made over three days of fermentation," Cook explains. "It keeps really well and makes fantastic toast."
It's also made with Shipton Mill Organic No. 4 flour as well as sea salt, water and yeast via a sponge method. On the first day a sponge dough is made with the ingredients which is kept in a temperature-controlled dough room for 18 hours before being added to the main dough. This goes back into the dough room until the next day when it's shaped into loaves, rolls and more.
"I wanted a loaf that was for the whole community. I didn't want to be a posh, foodie sourdough only bakery that just appealed to that niche. We priced it at £2 a loaf so it wasn't much more than a premium supermarket loaf to make it affordable to people on a daily basis."