Seasons Bakery's performance at Britain's Best Loaf 2020 was nothing short of outstanding.
Not only did the Ingleton-based business secure first place in the White category with its Tasty Tin Loaf, it was also highly commended in the Sourdough with Other Ingredients and Plain Sourdough categories for its Beetroot Multiseed Sourdough and Granary Sourdough, respectively.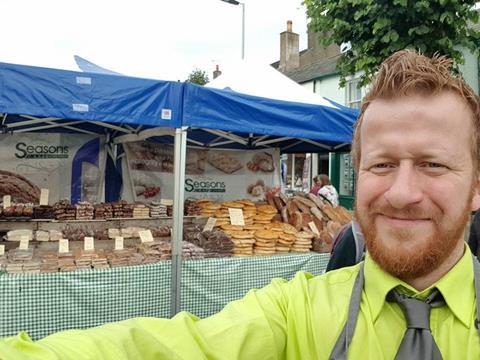 Dan Nemeth, Seasons Bakery owner (pictured right), described the news as "a shock". "We baked some nice bread that night – they were pretty perfect but it's always a risk as you don't know what others are doing."
The Beetroot Multiseed Sourdough, at least, was a safe bet having previously been named Britain's Best Loaf in 2017 and won Speciality Bread Product of the Year at the 2019 Baking Industry Awards.
"I really didn't expect to win the white loaf category," Nemeth admits. "I've been after it for years. I've won the innovation and sourdough class before, so it's nice to win the white class as well."
The Tasty Tin Loaf is no ordinary white loaf. It's made via a much longer process than a standard loaf.
When everything is doom and gloom, it's quite easy to get sucked into that. Doing awards like this and winning is a massive pick-me-up for the team
"We make two starter doughs – a sponge and a ferment using our famous sourdough ferment – and we mix them together to make another ferment and use pull back from the white loaf dough from the day before. That makes our master sponge," he explains. Yeast is also added.
"It's quite a lengthy process. We refrigerate the sponge overnight which adds loads of taste."
It's the taste that keeps customers coming back. Seasons Bakery sells thousands of white loaves and has even gained two new wholesale contracts for the Tasty Tin Loaf since winning the award.
"As soon as we win an award like that, people want it. It was the same when we won with the beetroot sourdough. We make thousands of them now," Nemeth says.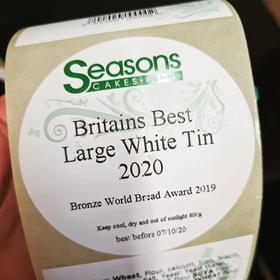 The win will be further publicised to as Seasons Bakery has had stickers made up for the loaves to showcase it.
With all these awards, Nemeth admits Seasons Bakery is running out of space for certificates on the wall and the trophy cabinet is filling up fast. But they're a real boost for staff, even more so recently.
As soon as we win an award, people want the products
"This year it's been particularly hard for teams up and down the country and as a boss it's been hard keeping morale up. When everything is doom and gloom, it's quite easy to get sucked into that," he says. "Doing awards like this and winning is a massive pick-me-up for the team."
A lot has changed at Seasons this year as business went "absolutely mental" during lockdown. "Some days we were making up to 8,000 sourdoughs in a 24-hour period, all by hand. It was round the clock production. The oven never turned off; the mixer never turned off."
The business has taken on 20 staff this year across its whole operation and introduced new ways of working to ensure staff are kept safe. This included redesigning the bakery to 'zone off' areas, introducing an evening, night and morning shift and converting the storeroom into a cake and patisserie room. A wagon, which sits outside the bakery, was transformed into the new storeroom.
An operations manager and a shop manager are among the new hires as Nemeth explains he had to dissect the business as "it can't just be me in charge anymore". The positivity of Seasons Bakery, as seen on its social media channels, has helped with the hiring, Nemeth adds.
He has also invested in new machinery spending over £100,000 on equipment this year including ovens, a bread slicer and crumber.
Looking to the future, Nemeth is "passionate about going green" with composting systems and cardboard recycling in place, while flour bags will be shredded to become packing material.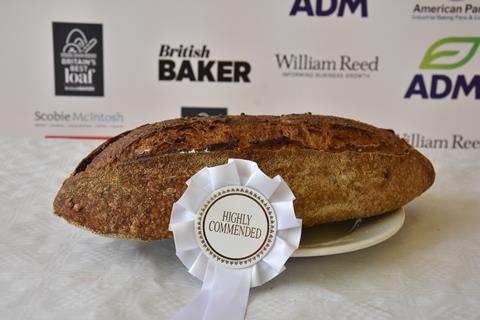 Sourdough success
Seasons' Granary Sourdough (pictured above) was named highly commended in the Plain Sourdough category at Britain's Best Loaf 2020, which was sponsored by ADM, American Pan UK and Scobie McIntosh/Revent. It's made with a blend of granary flour and strong wheat flour.
"We make up a granary ferment where we soak 80% malted flour to the ferment and feed it on that. You feed it again and use it as you would a normal sourdough," explains Nemeth.
"We bulk ferment it for 12-16 hours in the fridge, which adds loads of taste, we pull it out and divide it when it's cold, bench rest it for three hours, mould it and put it back in the fridge until the next morning. All in all, it's just over at three-day process – like the beetroot sourdough."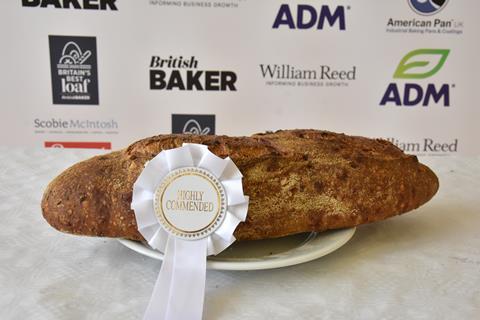 The Beetroot Multiseed Sourdough, meanwhile, feature two types of beetroot. Fresh grated beetroot is added to the sourdough ferment bringing flavour and colour, while beetroot that has been roasted with herbs, spices and olive oil is added to the dough.
To find out more about how the other category-winning loaves at Britain's Best Loaf 2020 are made, click the links below: