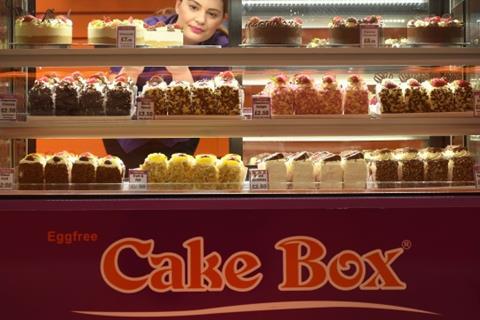 Cake Box intends to open up to 32 new franchise stores in the current financial year following a strong H1 performance, according to CEO Sukh Chamdal.
The celebration cake chain added 20 new franchise stores in the six months up to 30 September 2021 to bring the company's total to 174. Like-for-like franchise sales growth of 13.3% was achieved for the four months up to H1 end, with franchisee total turnover for the period up 73.2% to £29.5m.
"Our proven franchisee model continues to deliver and we now plan to open up to 32 new franchise stores this year, helping more entrepreneurs than ever build their own businesses and serve their local communities," Chamdal said in Cake Box's latest results.
The company's H1 results revealed that group revenues rose by 50.5% to £11.2m in the four months to 30 September 2021 compared with the same period in the previous year (which excludes the impact of the March 2020 lockdown and associated store closures). Gross profit for the four months grew 48% to £5.5m and pre-tax profit was up 56.7% to £2.6m.
During the H1 period, Cake Box launched various NPD including its 'naked cake' range as well as trialling seven kiosks in Asda. Since the half-year end the group has launched a further four Asda kiosks as well as three new stores.
The target of 32 new franchise openings has been underpinned by a "record number" of deposits from prospective partners and the supply chain "remains robust, with several months of ingredients in stock", the company said.
Chamdal paid tribute to Cake Box's "fantastic franchisees" in announcing the group's "strong performance" over the last six months. "Supported by their dedicated team members, [they] have helped us deliver record first-half store openings, revenues, profits and dividends, while making further significant strategic progress that gives us momentum into the second half," he said.
The CEO discussed the company's past, present and future in an interview with British Baker earlier this year.