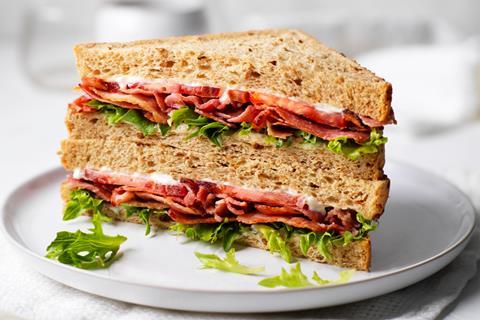 Greencore is to roll out plastic-free recyclable sandwich packaging as part of 'test and learn' trials with Co-op and Sainsbury's.
The packaging, also known as a skillet and developed in conjunction with ProAmpac, will have a plastic-free window and be made entirely from paper-based material.
Notably, Greencore said sandwiches packaged in the new skillet will have the same shelf life as if they were packaged in the traditional way due to the level of moisture resistance provided.
The trials are due to commence in September 2021 with a full rollout of the new packaging expected to begin later in the year, providing the trials are successful and meet all parties' performance criteria. In time, Greencore said it expects to make the packaging techniques available to the wider UK market.
"Developing a fully recyclable sandwich skillet is one of the key ways we can reduce waste and help our customers do their bit to protect the environment," said Andy Wright, head of sustainability at Greencore.
"This is not a problem we can solve alone, though. The complexities of the challenges we face require collective action, inside and outside our industry, and Greencore is pleased to have such supportive customers who share our enthusiasm for making great food for all, that's accessible, healthy and sustainable."
The new packaging forms part of Greencore's sustainability initiative which it outlined in 2020. The sustainability report contains a range of pledges including: all surplus product will be donated to local communities by 2022; a deforestation-free supply chain by 2025; all raw materials will be sustainably sourced by 2030; and, product development will be equally split between animal protein versus plant-rich alternatives by 2030.
Trading update
The news of the trial comes as the firm, which manufactures convenience foods including sandwiches and salads, posts its Q3 trading update which reported quarterly revenue of £360.2m. This represents an increase of 49.7% on the prior year and was only 2.8% below pre-Covid levels for Q3 in 2019. Food-to-go makes up the largest proportion of Greencore's revenue, accounting for £236.5m in Q3.
Greencore said the UK trading environment 'improved markedly' this quarter, which covers the 13 weeks to 25 June 2021. It now expects to report adjusted operating profit of £36m to £40m for the full year.
CEO Patrick Coveney said he was "encouraged by the improvement in revenue, profitability and cash flow momentum".
"Against the backdrop of the UK economy reopening fully, we are rebuilding our economic model effectively and sustainably with all stakeholders, supported by our long-standing customer relationships and further enhanced by the new business wins we have secured this year," he said.