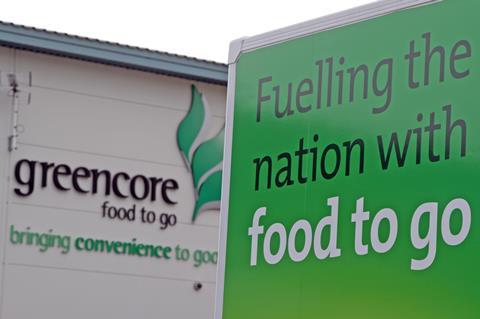 Convenience food producer Greencore has returned to annual profit, with growth in sales driven largely by its food to go categories.
In its results for the financial year ended 24 September 2021 the group posted a 4.8% rise in revenue to £1,324.8m, helping pre-tax profit jump to £27.8m from a loss of £10.8m in 2020.
Sales for food to go in the UK and Ireland hit £842.1m in 2021, up from £772.9m for the previous year, while other convenience categories accounted for revenue of £482.7m, compared with £491.8m for 2020.
Adjusted operating profit for the year was £39m – a year-on-year rise of 20% – and the group also reported a significant reduction in net debt (excluding lease liabilities) to £183.1m, from £350.5m in 2020.
Greencore said trading in the early part of the 2022 financial year had been "encouraging with continued positive revenue momentum across the business". However, the group also noted ongoing challenges including input cost and other inflation, while also warning of the impact on the pace of profit conversion from supply chain and labour challenges.
Despite this, Greencore said it expects results for 2022 to be "in line with current market expectations" providing there is no return to mobility restrictions or lockdowns resulting from increases in Covid-19 infection rates in the UK.
"Greencore has weathered the storm and emerged strongly from a difficult period," said CEO Patrick Coveney. "Following a challenging first half in FY21, we made good progress in rebuilding revenues, cashflows and profitability in H2 and are confident of maintaining this positive trajectory in the year ahead, particularly in the seasonally important second half."
The CEO, who recently announced he would be leaving Greencore to head up travel food and drink operator SSP, added that strong free cashflow and the significant reduction in leverage meant the group entered the latest financial year "on a robust financial footing".
"Greencore has a strong position in the dynamic UK convenience food market and, with demand remaining strong in the early stages of FY22, has confidence in its medium-term prospects," Coveney said.
Dublin-headquartered Greencore has 21 manufacturing units across 16 locations in the UK. The group, which employs approximately 13,000 people, manufactured 645 million sandwiches and other food to go products in the 2021 financial year. Recent innovations include plastic-free recyclable sandwich packaging, trialled in Co-op and Sainsbury's.