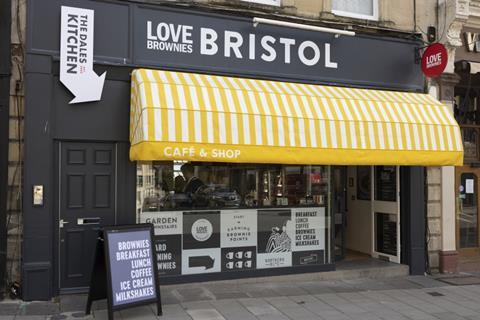 Yorkshire business Love Brownies has entered liquidation after battling rising costs, recruitment issues and changes in consumer spending habits post-Covid.
The bakery – which was founded in 2009 by Chantal Teal as an online gifting specialist before venturing into bricks & mortar retail – appointed RSM UK in late July as liquidator with Gareth Harris, restructuring advisory partner, taking the lead.
It had been in negotiations with an investor for four months and an offer was on the table, Teal told British Baker. However, this "was retracted at the very last minute at a point of no return for us", she added. "This pushed us in to liquidation and we had to make a lot of our valued team redundant and left us owing to our suppliers. I know most of our team have secured wonderful new positions in other companies and it is with thanks to our loyal suppliers we will get through this next stage."
A spokesperson for RSM UK said that all creditors and suppliers have been communicated with "so they are all aware of the situation, and this includes employees".
Following this, Love Brownies has restructured the business and will be keeping its flagship Brownie Barn in North Yorkshire open alongside sites in Grassington, Harrogate and Parcevall Hall. Its cafes in the south of England – Richmond, Swindon, St Albans, West Kirby, Windsor, and Okehampton – also remain open. These are operated by franchisees and "continue to flourish". The firm's website will also continue to be operational.
The business had expanded recently, making it on to British Baker's Bakery Market Report for the first time this year with 17 sites as of 1 January 2022 – 12 of these were operated by franchise partners and supplied by five brownie kitchens across the UK. Further expansion took place and just last month its 20th shop was opened in Richmond, London by franchisees Joanna and Ken Shum.
"Like a lot of businesses in the industry, since Covid, we have been fighting a change in spending habits/footfall on the high street, rising costs in every way imaginable, recruitment issues. Not to mention raising huge personal investment for our new bakery premises in Harrogate, and trying to fund the rapid growth of the business," Teal added.
"So, whilst this is going to take some time to bounce back from, we shall do it with clarity and passion and will honour all those who continue to support us through this exceptionally tough time."