Brexit, a worldwide pandemic, supply chain shortages, staffing issues and rapidly rising costs are just a few of the challenges bakery businesses have been contending with of late.
And yet many of the firms on this list – which outlines the biggest out-of-home food-to-go/non-supermarket retail businesses which sell baked goods as a primary element of their food offering – have proved just how resilient they are. This time last year British Baker revealed the pandemic's initial impact on the top 75, detailing job losses, store closures and, in a couple of cases, business collapses. Overall, they operated 103 fewer sites across the UK than pre-pandemic.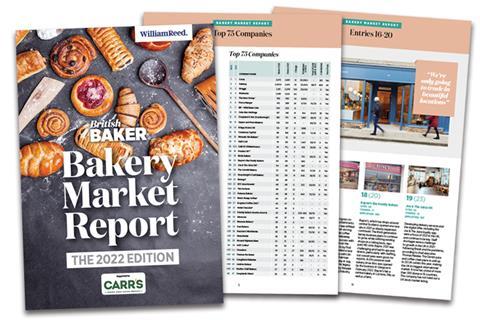 DOWNLOAD THE FULL BAKERY MARKET REPORT 2022
Gain free access to this unique snapshot of Britain's out of home bakery market. The core of the report is the 'BB75' listing, which contains details of the country's 75 largest bakery-focused operators ranked by the number of stores they operate.
Information in the report includes:
Number of sites operated (as of 1 January 2022)
Year-on-year growth/decline in sites
Number of employees
Food and drink split
Analysis of key activity in 2021
Plans for 2022
Now, many are on steep growth trajectories. The exclusive data shows that around 420 locations have sprung up across these fair isles in the past year and the number is expected to rise further with some of the highest-ranking firms, including Greggs, Pret and Cooplands, on ambitious growth paths. Greggs, for example, accounts for nearly a quarter of the new sites on the list, with 103 added to its portfolio in 2021 and a target of 150 net new shops annually as it steams towards its goal of 3,000 UK sites.
The market overall hasn't fully bounced back to pre-pandemic levels though. "The UK food-to-go market recovered to 76% of its 2019 value in 2021," explains Katie Prowse, senior insight manager at Lumina Intelligence, quoting figures from its UK Food to Go Market Report 2021. Restricted movement and travel in the first six months of the year hampered the market's recovery, Prowse added, but it still saw value rise by £4.5bn to £16.2bn.
"There were 7.4bn total out-of-home visits in 2021, which is an improvement on 2020, but still less than the 11.4bn in 2019," notes John Want, sales, marketing and R&D director at bakery supplier Rich's. "Footfall is still down across the year – we did see a boost in the autumn as more of us embraced the easing of restrictions and carried out early Christmas shopping, but the key weeks in the run-up to Christmas were quieter than usual because of the impacts of Omicron."
While restrictions are no longer in place, things aren't necessarily back to 'normal' now. Covid is still rife in the community, compounding existing staffing and recruitment problems for operators which are facing rising energy and ingredient costs. "Staff sickness absence [is] adding to the wider challenges of recruitment," notes Alasdair Smith, CEO of Scottish Bakers. "This can have a sudden and challenging impact on production capacity of businesses."
The changing legislative landscape also brought increased costs as those selling pre-packed sandwiches and other goods had to comply with Natasha's Law, which was introduced on 1 October 2021. What's more, out-of-home businesses with more than 250 employees must now implement mandatory calorie labelling for non-prepacked food and drink suitable for immediate consumption on or off the premises.
With all this in mind, what does the out-of-home bakery market look like? Where will future growth come from? And how are firms tackling the ever-changing challenges being thrown at them?
There's been some shifting in the rankings as some have climbed, others fallen, and some have dropped off the list entirely. While the top five remains relatively stable, with Costa holding the number one position for another year, followed by Subway, Greggs, Starbucks and The Nero Group, there has been a slight shuffling below it. Cake Box, for example, has just pipped Cooplands to the number eight position after an impressive year of expansion.
A slight reworking of the data collection process to bring them in line with others on the list has meant Stephens Bakery now appears towards the bottom rather than in the top 10 and fellow Scottish firm RT Stuart has dropped off as they have 13 and eight stores, respectively. Notably, both have a strong retail presence with more than 200 locations stocking Stephens' food, while Stuarts supplies a range of Scotmid, Spar and Nisa stores among others. Elsewhere, WH Smith's Coffee House proposition has disappeared from its stores, while West Cornwall Pasty Co's products are now only available at Moto service stations, though it is planning on selling them frozen through supermarkets 'very soon'.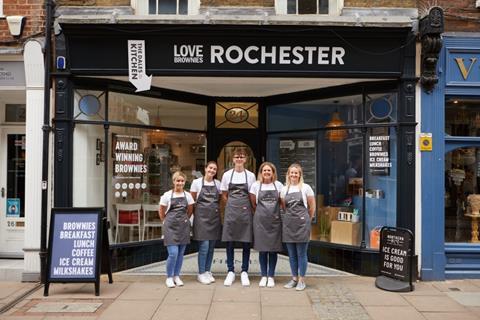 There are plenty of new entrants at least, with Cinnabon, Love Brownies, Dunkin' Doughnuts and 200 Degrees among those looking to make their mark on the scene. Tim Hortons, The Cornish Bakery, Wenzel's the Bakers and Gail's are among those to significantly climb the ranks as well.
"Bakery and sandwich alongside coffee shop/café segments have performed robustly in the food-to-go market, underpinned by continued outlet expansion, the takeaway and collection nature of sites, as well as the low-ticket propositions," Lumina Intelligence's Prowse adds.
A lockdown legacy
With expansion plans on the horizon for many, available sites are literally becoming hot property – particularly if they're in a desirable location.
"Location is emerging as one of the most important factors determining performance – wherever customers can stop to park and make purchases, we are hearing reports of generally good levels of trade," says Scottish Bakers' Smith, who notes mixed trading levels across its membership. "There is a strong correlation between availability of parking and average spend."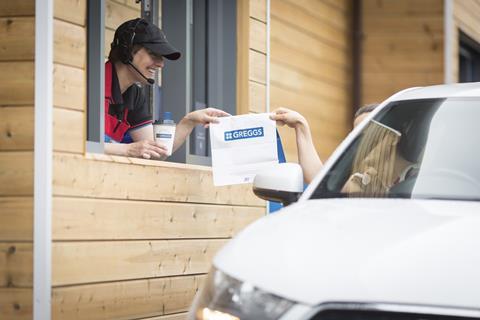 As such, drive-thrus and out-of-town locations have rocketed in popularity. Costa and Starbucks still dominate this arena while Greggs said drive-thrus have "cemented their position as the most attractive format type". Both Greggs and Costa have benefited from having a large physical presence away from city centre locations. As Lumina Intelligence notes, they regained their share of the total food-to-go market in 2021, with Greggs the second largest operator by turnover with a 5% share of the market and Costa the fourth with a 4.3% share.
Smaller businesses are making inroads with Tim Horton's, Stephens and Bayne's the Family Baker also operating drive-thrus. Drive-tos are also proving popular.Jenkins Bakery in Wales has noted that ample parking leads to significant advantages. It opened a flagship store at a retail park in Cross Hands with a large seating area to tap into demand from customers who want to eat in, while a larger counter offers those wishing to grab and go that option as well. At a recent gathering of craft bakers, the firm's general manager Richard Mynott also noted that Jenkins had found sites next to convenience stores such as Tesco Express or Co-op to be lucrative.
This is a running theme seen across the market as businesses flock to locations convenient for consumers.
Scarborough-based Cooplands, for example, has opened concessions in Tesco stores and partnered with local supermarket chain Proudfoot to make its products available there. It is also set to make its mark on the forecourt scene after its acquisition by EG Group. Pret, which was impacted by the lack of London city centre footfall, developed several retail lines for supermarkets including bake-at-home croissants and pain au chocolat, while Caffè Nero developed an at-home coffee offer. Newcomer to the market Caffè Carluccio's also opened the first of its intended 500 UK sites in Sainsbury's in St Albans.
"Pandemic legacies include a range of operational and strategic developments, from location strategies, an expansion into retail channels, and more digital and technology-led services," adds Prowse. "It is expected that there will be a continuation of these revenue streams in the future as consumers become accustomed to the ability to enjoy their favourite brands at home."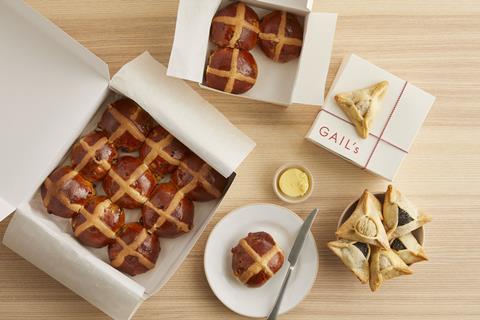 Delivering convenience
Home delivery is another lockdown legacy that consumers are committed to. Thankfully, operators are willing to oblige as they seek a boost in sales. Greggs, for example, believes there is a £170m opportunity for it through delivery – with £70m of this coming from delivery in the evening – over the next five years. What's more, its average basket size through delivery is three times that of walk-in sales.
Online sales have also flourished for Cake Box, which focuses on egg-free celebration cakes, with 84% growth through this channel noted in its 2020/21 full-year results. The business, headed by CEO Sukh Chamdal, launched its own delivery platform to capitalise on this and complement existing third-party and click & collect offerings.
Loyalty, predominantly app based, is another thread to digital strategies considered to be a legacy of Covid-19 as firms seek to keep customers coming back. Pret, for example, debuted a coffee subscription in 2020 and began trialling a programme called Pret Perks as of late 2021. Meanwhile, Costa updated its rewards scheme and Greggs unveiled a rewards app.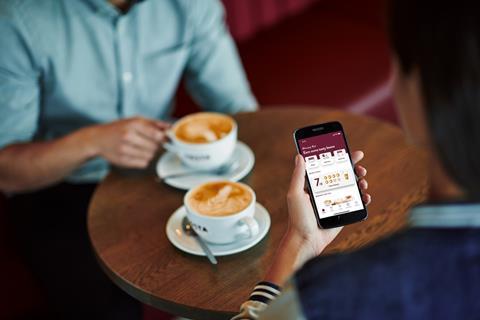 Doughnut specialist Crosstown, which first appeared in the Bakery Market Report in 2021, says it had to "remain nimble and utilise every channel available" but notes that "online is here to stay" as customers look to support their favourite brands digitally and in person.
Not all formats have such a bright future though. City centres struggled throughout the pandemic and were further impacted at the start of 2021 when the third national lockdown was in place. "A big challenge is the recovery of coffee shops and food-to-go outlets in city centres that continued to suffer due to work-from-home guidance," says John Lindsay, European CEO of finished goods specialist Baker & Baker. "Around a third of employees were working from home as spring 2021 lockdown restrictions were released and, for many, this has now become a positive lifestyle choice."
Pret is among the firms looking to shift its focus from city centres and extend its presence in regional towns as some of its existing stores in these areas are "busier than ever". In August it revealed plans to open 100 franchise shops and 100 company-owned ones to increase its presence outside of London and other large UK cities as it works on its strategy of bringing 'Pret to more people'.
The exception to the slump, according to Mark Norton of manufacturer Cornish Premier Pasties, are coastal towns or places that attract visitors on a regular basis. It's an idea that The Cornish Bakery is embracing as owner and founder Steve Grocutt declares the business will "only trade in beautiful locations", with recent openings including Lymington, Chichester and Dorchester as it moves towards its goal of having 100 branches across the UK.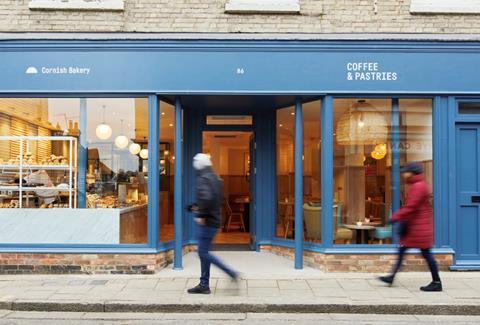 What is clear from the strategies being employed is that it's important for operators not to put all their eggs into one basket.
"Operators are likely to employ a mix of channels to offer consumers greater convenience – whether these are through investments or partnerships," believes Stephanie Brillouet, marketing director at Dèlifrance. "Success of each will depend on factors such as demographics and location, and only through careful monitoring can operators highlight the most profitable."
Product innovation
Products are inevitably at the heart of any bakery offering, although the pandemic understandably stifled the usual high levels of innovation seen in this market.
"Consumers have largely seen similar core ranges from the big bakeries in the last couple of years, which is beginning to look a bit tired," believes Rich's Want.
The good news is product innovation is "rapidly accelerating" with plenty of new products expected to roll out across the market this year. "We're in a period of 'double development' for many of our customers, working on Christmas ranges but also coming back to Easter and summer 2022 collections," he adds.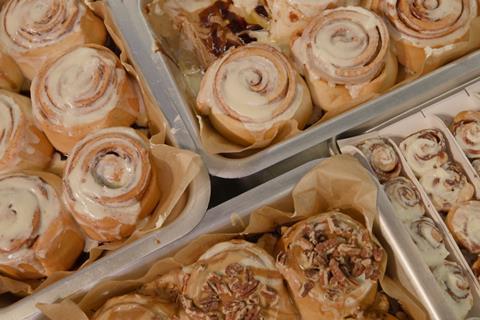 Sweet pastries overtrade in this market, Brillouet adds, particularly for those dining in as shoppers look to pair a pastry and a coffee while for those on-the-go, savouries such as cheese twists come to the fore.
Data from Lumina Intelligence's Eating & Drinking Out Panel even reveals that pastries were the second most popular food-to-go item for the 12 weeks ending 30 January 2022 with a 14% share. They're also the leading items at breakfast and for snacks, with other high-performing choices in food-to-go including doughnuts, sandwiches, cakes and cookies.
Sandwiches and bakery propositions, along with travel, are expected to lead value growth until 2025, according to Lumina, with a "greater focus on food ranges across dayparts and quality".
Economic difficulties
However, they'll be fighting against rising costs with supply issues across the board, worsened by the Russian invasion of Ukraine. With both countries being key players in international commodity markets, global wheat prices have surged to record highs in recent weeks, notes the Agriculture and Horticulture Development Board (AHDB), which also highlights the impact the conflict is having on sunflower oil supplies and prices, leading some to look for alternative materials.
There are other operational costs to consider, such as the 6.6% increase to the National Minimum Wage, as well as VAT, which rises from 12.5% to 20% as of April 2022 and affects food sold for on-premises consumption and hot takeaway food and drinks. The Rent Moratorium, which protects commercial tenants unable to pay rent, will also be uplifted from April, notes Prowse.
"We can all see this is a challenging time for most businesses," says Allan Burns, sales & marketing director, Carr's Flour. "Not only are food costs rising, but wages and energy costs soaring are resulting in a huge impact for all."
Many baking industry suppliers have increased their prices to reflect this. "There has been a 26% year-on-year increase in average price per item," says Rich's Want. "Inflation is not going away – we are seeing a reset of pricing that will have lasting and permanent effects."
This, Want notes, has allowed certain operators to review ranges and their pricing hierarchy, with many focusing on bestsellers that will encourage repeat sales.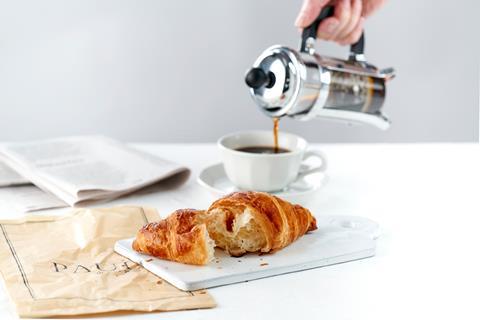 It's particularly important as costs are being passed on to shoppers when personal finances are already under pressure.
"It would be foolish to not take into account the mounting cost of living crisis. With consumers keenly aware of their outgoings rising, most will be price sensitive. Brands and retailers will have to balance the weight of expectation for the new and exciting with an audience that will be more focused on price point than before," adds Burns.
But, as Norton says, "most businesses have little fat on the bone left to cut and therefore have to pass the increasing costs on to the end consumer".
While some consumers may reduce the frequency of visits as a result, Lindsay at Baker & Baker believes the coffee and bakery market will be somewhat insulated as "low-ticket value such as coffee and cake with friends or family can replace more expensive meals out".
But, he adds, it is crucial foodservice operators understand their core customer base and develop a product portfolio to match. "Meeting price points is important, but not necessarily the cheapest, as consumers are increasingly valuing quality rather than quantity moments," he believes. Quality applies to customer service and the atmosphere as well, offering operators a chance to let their staff shine.
Despite the challenges ahead, many remain optimistic the industry can flourish because, if the past two years has taught us anything, it's 'expect the unexpected'.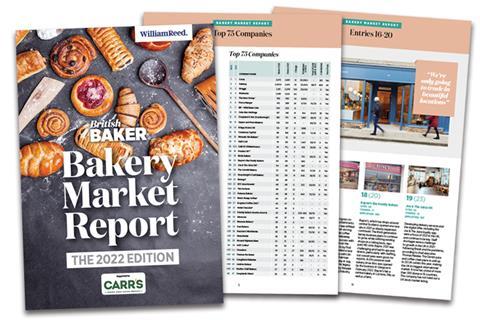 DOWNLOAD THE FULL BAKERY MARKET REPORT 2022
Gain free access to this unique snapshot of Britain's out of home bakery market. The core of the report is the 'BB75' listing, which contains details of the country's 75 largest bakery-focused operators ranked by the number of stores they operate.
Information in the report includes:
Number of sites operated (as of 1 January 2022)
Year-on-year growth/decline in sites
Number of employees
Food and drink split
Analysis of key activity in 2021
Plans for 2022