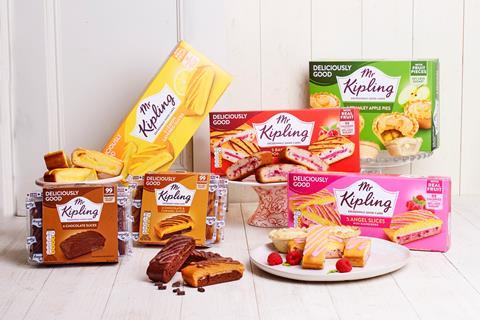 Premier Foods celebrated its Mr Kipling brand's 'best year ever' in its preliminary annual results – but suggested prices might have to go up.
Premier's branded revenue for FY21/22 (52 weeks ended 2 April 2022) rose by 9.7% compared with two years ago, significantly contributing to the group's overall sales growth of 6.3% against the FY19/20 figure. CEO Alex Whitehouse noted that Mr Kipling had benefited from marketing, investment and a series of new product launches – and while promising more of the same, he also said rising costs could result in price increases.
"Yet again, our brands have grown faster than their categories, with revenues increasing nearly 10% versus two years ago as they gained volume and value market share in grocery and sweet treats both in store and online, with Mr Kipling enjoying its best year ever," Whitehouse said.
"As we enter FY22/23, we have strong growth plans in place including several new product launches such as the range of Mr Kipling Deliciously Good cakes. We anticipate seeing further input cost inflation which we will continue to address using a combination of measures, as we have successfully done before, and including cost efficiency programmes and increased pricing," Whitehouse added.
Premier's total revenue for the 12-month period was £900.5m – down 3.6% on the previous year. FY21/22 trading profit and adjusted pre-tax profit figures both exceeded expectations by more than £3m, at £148.3m and £128.5m respectively – compared with £148.3m and £115.3m for the previous year. The pre-tax profit total of £102.6m was down 16.4% on the FY20/21 figure of £122.8m but up 91.4% on FY19/20's £53.6m.
Whitehouse said initial trading in the current financial year had been "encouraging" and in line with plans. "We are seeing strong market share gains as consumers increasingly look for good value meal solutions," he added. "With this positive momentum, and the resilience of our brands, categories and supply chain, we are confident of delivering another year of good progress."