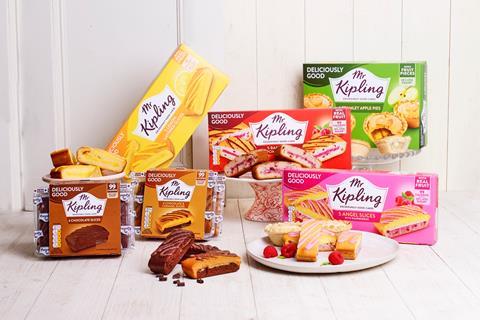 Premier Foods has unveiled a range of better-for-you Mr Kipling cakes and pies called Deliciously Good.
The launch represents Premier's first full range of non-HFSS (non-high fat, salt and sugar) branded cakes. The manufacturer hailed the launch as a 'major milestone' in delivering against its Enriching Life Plan ESG strategy, which contains the pledge to more than double sales of its healthier products.
Available initially in Tesco from 22 April and rolling out over the next few months, the range includes Mr Kipling's Lemon, Bakewell, Angel, Chocolate, and Chocolate Caramel cake variants, sold in snack packs and share packs, along with Bramley Apple Pies and Bramley Apple and Blackcurrant pies.
Made at Premier Foods' Stoke and Carlton manufacturing sites, the products contain 30% less sugar, and up to 10 times the amount of fibre than standard Mr Kipling ranges, are made with real fruit and provide as little as 99 calories per portion, according to the manufacturer.
The launch will be supported with a new brand advertising campaign featuring a new TV advertisement, digital marketing and in-store activation.
Premier said the new range scored 'exceptionally well' in consumer taste tests.
"Those who bake cakes themselves will understand that creating a cake with significantly less sugar, is healthier, and still tastes indulgent is no easy task, but using the expertise garnered from producing such an iconic brand over the last 50 years, our talented teams have made the impossible possible," said Alex Whitehouse, CEO of Premier Foods.
"We said a year ago that we were committed to providing great tasting, nutritious food and I'm delighted that we've created a product that caters to the growing demand for healthier treats – whether that's helping existing consumers to make healthier swaps or attracting new shoppers. Deliciously Good will allow people to truly have their cake and eat it," Whitehouse added.
Premier Foods said it will continue adding to its pipeline of innovation and NPD as it targets further progress against the goals set out in its Enriching Life Plan.