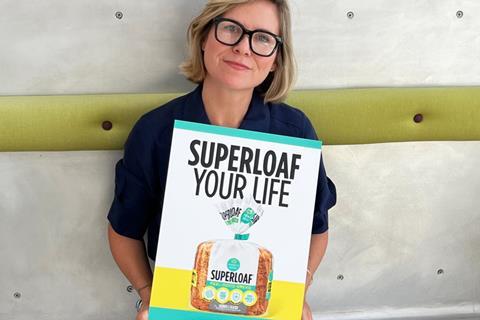 Modern Baker, the Oxford-based business behind actively healthy bread brand Superloaf, has been awarded a £450,000 grant from Innovate UK.
Funds are to be used to apply the firm's breakthrough Alt-Nutrition ingredient more widely in the formulation of other ultra-processed foods (UPF) including pastries, breakfast cereals, pasta, ready meals, and yoghurts.
Awarded as part of the Better Food for All: Innovation for improved nutrition funding competition, it marks the sixth successive grant Modern Baker has received from the UK's national innovation agency, bringing its total investment support to £4m.
Superloaf inventor Melissa Sharp and Modern Baker co-founder Leo Campbell first launched the product in 2021 following six years of research and development. This had been focussed on two key areas: replicating the nutrient profile found in a fruit, veg and whole grain diet from natural plant sources, and developing the processes required to integrate it into processed foods.
Dubbed "the healthiest loaf ever made" and geared towards supporting immune health, the NPD went on to win the Innovation category at Britain's Best Loaf just a few months later.
In March of this year, Modern Baker partnered with Hovis and Marks & Spencer to unveil a mass produced version, Superloaf 5.0, which has recently been named a finalist of the New Bakery Product of the Year category for the upcoming Baking Industry Awards 2023.
UPFs have exploded on the market in recent years with unhealthy items said to now represent nearly 60% of the UK's calorie intake, Modern Baker noted. They are increasingly linked to the chronic nutrition problem across the globe, something Modern Baker is keen to reframe with its health-positive formulations.
Superloaf has shown that carb-based UPFs can be re-engineered to become a vehicle for positive nutrition. The product combines the economic and format advantages of being produced at scale, while being packed with better nutrition, principally via selected prebiotic plant fibres, bioactive plant compounds and targeted fermentation.
"Receiving our sixth grant in a row from Innovate UK is tremendously encouraging, and a brilliant validation of Alt-Nutrition staples that benefit digestive and gut health, potentially ushering in a new era of mass-produced foods that are nutritious and have a net positive impact on wellbeing and the planet," said Sharp.
"Now we've cracked bread – by far the hardest staple – we feel there's no limit to where we can go from here, and we're incredibly humbled by the support from Innovate UK, which has played a vital role in our journey."