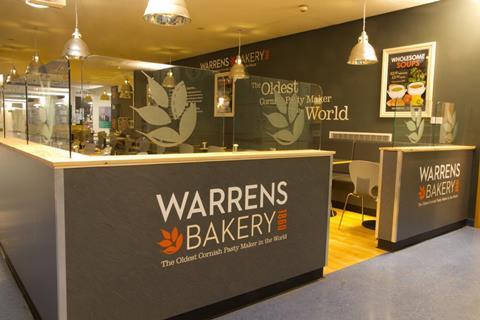 Warrens Bakery's financial performance is 'much improved', according to the strategic report in its latest set of accounts.
The Cornwall-headquartered bakery chain agreed a Company Voluntary Arrangement with its creditors in December 2019 in a move to avoid liquidation or insolvency after heavy losses.
However, following the closure of loss-making production facilities and stores, as well as pandemic-related government support and renegotiation with creditors, the company has forecast EBITDA of £1.1m for the year ending 30 June 2021. Turnover stood at £7.4m in April 2021, which Warrens said was higher than originally forecast.
The company said it is forecasting to meet all bank covenants for the next 12 month and, following the vaccination programme and lifting of restrictions, a profit of £1.2m has been forecast for the year ending 30 June 2022 (assuming continued improvement in trading with no further lockdowns).
The latest accounts filed with Companies House for the year ended 30 June 2020 show Warrens' turnover was £12.8m, with the company recording an operating loss of £2.7m. The company's balance sheet showed net current liabilities of £1.5m.
In March 2020, the company extended five-year loan facilities with its bank on improved terms to support cash flow, and last August the firm secured agreement to cut its minimum CVA payments, allowing trading to continue.
While the Covid-19 pandemic has 'significantly impacted' the bakery, in the year to June 2021 the company received business rates grants of around £0.17m and furlough payments of approximately £1m. The company also received a total of £560,000 from the sale of its Truthwall and St Just sites.
Warrens has introduced a series of ongoing business measures to negate the shortfall in trade due to the pandemic, including click-and-collect, delivery options, the trialling of evening 'supper' options, temporary 20% pay cuts for senior management and the scaling back of store hours and staffing.