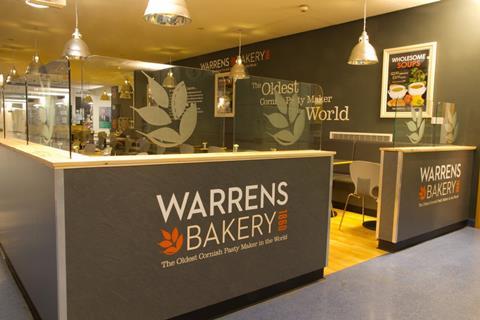 Cornish bakery chain Warrens Bakery said it is optimistic about its future, having dealt with major loss-making areas of the business before the Covid-19 epidemic.
Warrens had revised its business format and proactively addressed market challenges head-on, which put it in a much stronger position to deal with market influences like Brexit, changing consumer behaviours and most recently Covid-19, said Mark Sullivan, chairman of Warrens.
The company, which went into a Company Voluntary Arrangement with creditors in December 2019, was better equipped for future growth after "having dealt with the major loss making elements of our business pre-Covid," he said.
"It's likely various businesses in bakery and similar manufacturing sectors will need to pursue such measures in the year ahead, so hopefully we're ahead of the curve," he commented.
Warrens, which now has 42 stores, is part of the Provenance Brands group, which is expanding in sea salt and ingredients, healthy snacking and other food categories, "so we're increasingly optimistic about the future," said Sullivan.
Sullivan made the statement following recent negative local newspaper headlines on staff cutbacks at its Plymouth Hospital outlets.
The chain is scaling back staffing at its three units at Plymouth's Derriford Hospital, following the Covid-19 outbreak.
It said in a statement that the decision was taken due to reduced visitor numbers at Derriford Hospital.
"Through Covid we've continued to support regional hospitals and drive online sales, while placing much of our retail estate in hibernation, which is now re-opened. Sadly, due to reduced visitor numbers at Derriford Hospital, where we have several units, we have had to reduce staff numbers in accordance with the new footfall."