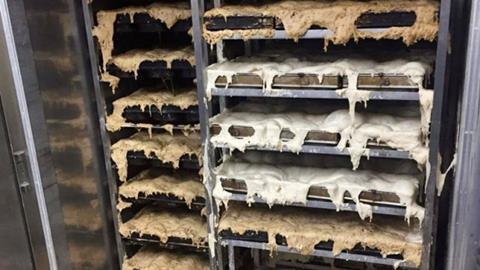 Bakers at Wedges Bakery in Solihull rose to the challenge after they were greeted by hundreds of spoiled loaves following an issue with the prover.
This resulted in 232 loaves of bread – including white farmhouse, harvest sun (granary) farmhouse and wholemeal farmhouse – being scrapped. All had to be remade for Wedges' shops in Dovehouse and Hockley, which are open but with strict social distancing measures in place.
To add to the pressure, it happened on a Thursday (14 May), which is one of the days the bakery produces 270 loaves for Solihull Council. These are distributed as part of food parcels to vulnerable people in the community.
One of the bakery's provers had broken down the previous day and, while it was being repaired, Wedges' other prover was set to 'prove' without anyone realising.
"This caused the bread to start rising 14 hours early," head baker Jack Webb told British Baker.
Bread baker Liam Greenslade was initially shocked when opening the prover in the early hours of the morning. Having worked out the issue, he phoned Webb and asked him to come in early so they could begin production again.
"We were joking and laughing about it all morning," Webb added. "You have to keep your spirits high, despite the extra work."
The bakery has seen demand from the public increase in recent weeks and is fulfilling orders with fewer staff on-hand as three of its bakers are currently self-isolating.
"Of course, much worse could have happened, so it wasn't the end of the world. Our teams carried on, with a smile and reassured customers," said Alison Shale, Wedges Bakery area manager.
She praised Wedges' bakers and shop teams for their hard work in recent weeks as they looked to help their local community during this particularly difficult time.
"Each and every one of our lovely members of staff are an absolute credit to Wedges and our community," Shale added.