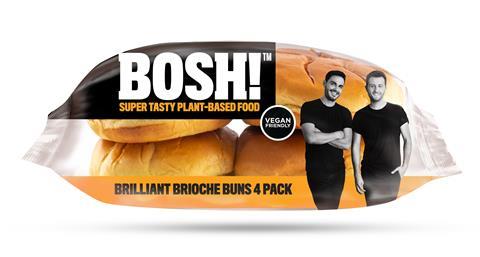 Finsbury Food Group is building on its partnership with vegan authors Bosh! with the launch of vegan brioche buns.
Called Brilliant Brioche Buns, the NPD is available in Waitrose stores priced at £1.30 for a four-pack.
The launch marks the first time the companies have teamed up to produce a savoury item having kicked off the partnership with a four-strong vegan cake range in 2020 which was followed by a plant-based chocolate traybake to be sold in Costa coffee shops.
They tap into the growing demand for vegan-friendly products as Finsbury highlights industry forecasts that show total spend on vegan diets could grow to £7.4bn by the end of 2021. It also noted that brioche burger buns were becoming increasingly popular with more than 60 million packs sold in the 52 weeks to 11 July 2021, representing a value increase of 39%.
"As product innovation has always sat at the heart of our partnership with Bosh!, we knew we already had the industry expertise and growth capacity to disrupt the bread category with a high-quality product that would get consumers excited – regardless of their dietary preferences," said Ruth McGrath, marketing manager for Finsbury Food Group.
She added that the business was confident it would attract new shoppers to the brand.
"This is the Finsbury team's first savoury launch under the Bosh! brand and we are confident that the Brilliant Brioche Buns product not only meets the long-awaited needs of those following a plant-based diet, but that it will also attract new shoppers to the brand."
Bosh! founders Henry Firth and Ian Theasby added: "We're so excited that our latest collaboration with Finsbury takes our vegan burgers to the next level… Together, we've created a product that showcases just how great plant-based alternatives can be."