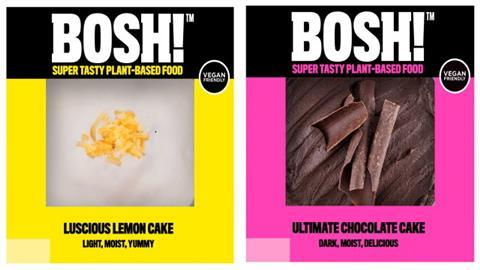 Finsbury Food Group has partnered with YouTube stars and vegan authors Bosh to develop its first range of vegan cakes.
Founded by Henry Firth and Ian Theasby, Bosh is described as the world's most-viewed vegan and plant-based recipe channel. The pair have appeared on numerous TV shows and written four books, including the first vegan cookbook to reach number one in the Sunday Times bestsellers chart.
The Bosh cake range comprises:
Ultimate Chocolate cake (rsp £3.50) is a sharing cake, comprising chocolate-flavoured sponge, a rich chocolate filling and chocolate shavings.
Luscious Lemon cake (rsp £3.50) is a sharing cake, featuring lemon-flavoured sponge, lemon syrup, lemon-flavoured icing and a sprinkle of candied lemon peel.
Chocolate Happy Birthday cake (rsp £8) is made up of a chocolate sponge split, chocolate flavoured frosting, hand-decorated chocolate buttons, chocolate shavings and a hand-piped 'Happy Birthday' message.
Vanilla Happy Birthday cake (rsp £8) contains a vanilla sponge split with vanilla frosting and raspberry jam, hand-decorated sugar paste stars, tutti frutti coloured sprinkles and a hand-piped 'Happy Birthday' message.
"We want to make plant-based diets and foods more appealing, accessible and available to everyone, and that includes treats like cake," said Firth.
"We are so excited to launch our first cake range and couldn't think of a better partner than Finsbury Food Group, which prides itself on quality and taste," added Theasby.
Registered by The Vegan Society, the range has been developed in response to the rising demand for more vegan and vegetarian options in supermarkets. There were 3.2 billion plant-based meals made in 2019, which is a 17% increase since 2016, according to analysts Kantar.
"This partnership has allowed Finsbury Food Group to expand into this category and show our capabilities for creating high-quality, enjoyable plant-based cakes," said Finsbury Food Group brand manager Jack Cook-Broussine.
"By partnering with Bosh, we can offer a solution to a problem we know customers and retailers alike have faced for some time, and we are excited by the prospect of expanding this range in the future."
The sharing cakes are available in Tesco now and Asda from 13 July, along with the Chocolate Happy Birthday cake.
Finsbury Food Group, which produces a wide range of own-label and licensed baked goods, also supplies cakes in partnership with Mary Berry.