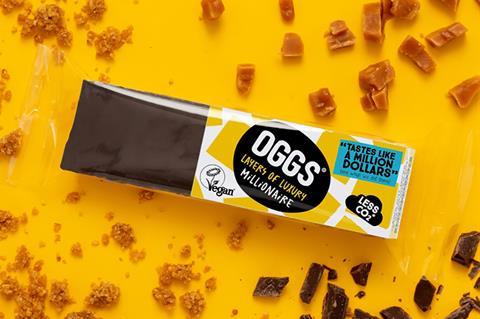 Upfield has entered a strategic partnership with vegan bakery firm and egg alternative producer Alternative Foods London, which operates via the Oggs brand.
Under the partnership, the plant-based spreads specialist will take a minority stake in Alternative Foods which hit the market in 2019. The Oggs offering includes cakes, brownie bites, bars and mince pies as well as patented liquid egg alternative Oggs Aquafaba and Scrambled Oggs.
The deal will help Oggs scale up its distribution by leveraging Upfield's global network and foodservice channel, Upfield Professional. It will also enable further innovation in liquid egg alternatives and the plant-based protein category through collaboration with Upfield's Food Science Centre, the businesses added.
"This partnership takes us into a new category of plant-based protein, enables us to offer even more options and we expect strong, sustainable growth," said David Haines, Upfield group CEO. "We have been aware of the innovative technology that Oggs has been perfecting and we're excited to become part of that and help drive the plant-based egg category forward through the combination of our global footprint and growing food service sector."
Both businesses are pushing towards a 'more sustainable, natural plant-based food system', they said. A life cycle assessment (LCA) for Aquafaba and Scrambled Oggs found they have less than 70% Co2e in comparison to chicken eggs, according to the firm.
"We are on a mission to remove unnecessary animal products from the food chain to improve the planet and animal welfare – that is, the use of animal products that don't provide nutritional benefit, such as egg white in bread," said Hannah Carter, founder and CEO of Alternative Foods.
"With Upfield as a partner, we can scale up distribution and awareness of our Oggs Egg Alternative range, Aquafaba and Scrambled Oggs, and create positive change faster than we can achieve on our own."