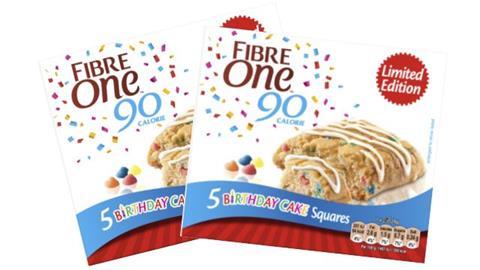 General Mills has extended its Fibre One brand with limited-edition 90 Calorie Birthday Cake Squares.
Made from vanilla cake mixed with sweet drops and topped off with frosting drizzle, it is decorated with party colours, festive confetti and a badge.
The UK launch was a result of its popularity in other markets and consumer demand on social media, said General Mills.
"Our new Birthday Cake flavour is bringing the party to the Healthier Biscuits & Bars category," said Kat Jones, marketing manager, ice cream and snacking at General Mills.
"The perfect celebratory treat, the squares not only taste delicious but contain 30% more fibre, 30% less fat and 30% less sugar than the average cake bar in the UK."
The brand has had a phenomenally successful year, said the company, adding it is the biggest contributor to the growth of the UK weight management snack bar category [Nielsen].
Fibre One sales have now reached £30.8m, achieving 35% in value sales year on year.
"It's really important to us that our target audience feel they can still have fun while watching what they eat, especially when it comes to special occasions," added Jones.
The birthday squares will be available in packs of five for £2.89 at Asda and on Amazon UK for six months.