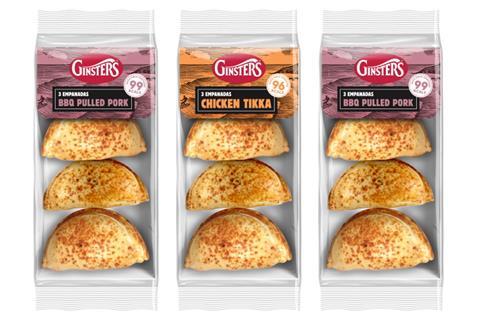 Ginsters has expanded its range of snacking products with two world flavour-inspired empanadas.
The BBQ Pulled Pork and Chicken Tikka empanadas will be available from 20 July with an rsp of £1.50 for a two-pack and £2 for a three-pack.
Ginsters Chicken Tikka Empanadas are filled with 100% British chicken in a creamy tikka sauce with mango chutney and chopped coriander, topped with smoked paprika. The BBQ Pulled Pork Empanada, meanwhile, is filled with 100% British pulled pork in a BBQ sauce with chipotle chillies.
Each empanada has less than 100 calories, Ginsters added.
Traditionally, empanadas are a Spanish or Latin-American delicacy, but Ginsters has put its own twist on the savoury pastry to 'capitalise on trend-setting flavours' that are popular with UK consumers.
Ginsters managing director Kieran Hemsworth said consumers expected more choice and better quality from their snacks, with an increasing focus on ingredients and health considerations.
"By combining flavour trends with more consumer variety, the launch will help to broaden the appeal of savoury pastry," he said.
"It celebrates the culinary connection between the pasty and empanada and, as the UK's number one pasty maker, is a natural move in innovation that we are bringing to the category."
Earlier this month, the brand unveiled two premium pork rolls in triple pork and pork, bacon and Cheddar variants.