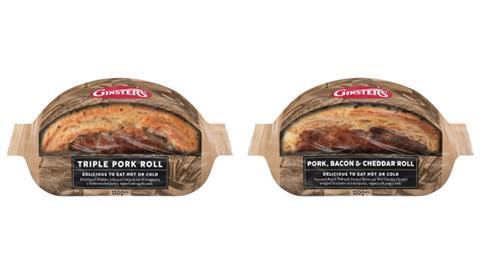 Ginsters has expanded its line-up with two premium pork rolls inspired by artisan pastries.
The Ginsters Premium Rolls will be available in two variants of 120g each: Triple Pork Roll and Pork, Bacon & Cheddar Roll.
The deli-style rolls are designed to tap demand among shoppers looking to trade up from the traditional sausage roll, said the firm. There is a growth opportunity of £2m for the category, it added.
Its Triple Pork Roll comprises 100% British pork shoulder, belly pork and pulled pork wrapped in a butter-enriched pastry and topped with nigella seeds and onion, oregano and black pepper.
The Pork, Bacon & Cheddar Roll is made up of 100% British pork, smoked bacon and full flavour West Country Cheddar, encased in a butter-enriched puff pastry and sprinkled with poppy seeds.
They will be available in supermarkets from 22 June with an rsp of £1.75.
"There is appetite for innovation in the premium savoury pastry aisle. It's not enough to just use quality ingredients; exciting flavours and unique recipes drive purchase," said Kieran Hemsworth, managing director at Ginsters.
"The Ginsters Premium Rolls have been inspired by artisan savoury pastry – we have elevated the humble sausage roll from being a grab-and-go snack to a lunchtime main event. This is 'high street deli meets food on the move'."
Its launch follows the success of the pastry brand's Cornish Handcrafted range of pasties last year.
"Despite the challenging times, Ginsters is growing three times faster than the savoury pastry category with +3.9% year-on-year growth," added Hemsworth. "Through an ambitious NPD roll-out, we have tapped the changing tastes of the nation and this latest range expansion is set to further strengthen our premium positioning."
Ginsters teamed up with Quorn to launch a vegan sausage roll in April.