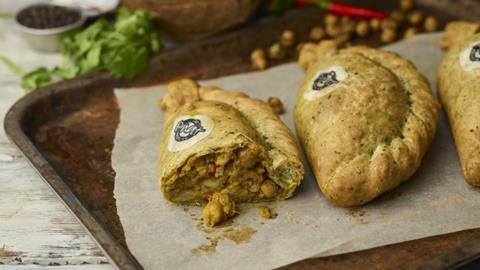 Milton Keynes-based Phat Pasty Co has launched a website offering pasty and pie delivery by post.
The Phat At Home website is offering Cornish pasties – which are produced in Cornwall - and deep-filled pies.
The menu includes its Traditional Cornish pasty, the winner of this year's World Pasty Championships; vegan Keralan Cauliflower, Chickpea & Onion Bhaji pasty, the winner of the British Pie Gold Award; and Spicy Cauliflower & Spinach Balti pie, which was awarded silver in the vegan pie category.
The pasties and pies are pre-baked and chilled. Supplied in cases of 12, they are ready for the oven or freezer.
"We were being asked by customers about ordering pasties and pies online and saw this as the opportunity to further engage with our customers during the period of lockdown. This was on the agenda pre-Covid-19, however it has been the ideal time to launch this new initiative," said Paul Clark, co-founder and Phat Controller of the Phat Pasty Co.
There was an increased interest in quality, simple-to-bake or -serve pasties, sausage rolls and pies, said the firm.
Customers were looking for items that were easy to eat directly from disposable packaging, it added.
Phat uses eco-friendly packaging, including Woolcool insulation and ice packs. For every vegan pasty and pie sold, the firm supports its partner charity, The World Forest Organisation, in its efforts to plant trees, support communities and build classrooms in Kenya.
Phat Pasty Co won the Cornish Pasty Company category at this year's World Pasty Championships.