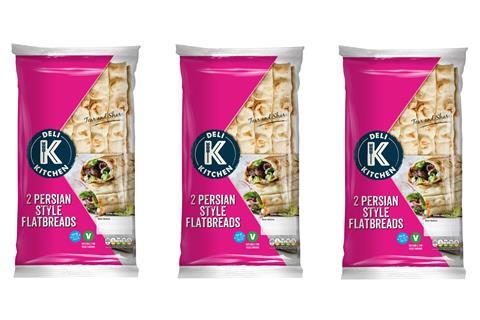 Signature Flatbreads has added a Persian Flatbread to its Deli Kitchen line-up.
Made with extra virgin olive, the product is described as 'supersoft' and 'easy to fill, top or tear, share and dip'.
The NPD launches in 385 Sainsbury's and 327 Tesco stories this week (rsp: £1.35).
It comes as the brand gains a new listing for its Garlic and Coriander and Plain naans (rsp: £1.90) in Sainsbury's, which hit shelves on 7 September.
"We're always looking for innovative new products to make mealtimes more exciting, and these certainly do the trick," David Laurence, managing director of Deli Kitchen, said.
"By meeting the current appetite for worldly cuisines and providing consumers with convenient yet flavoursome products, our Persian Flatbread and Naans aim to make any meal more adventurous."
Established in London, Deli Kitchen began life making pitta and naan breads before extending into tortilla wraps and folded flatbreads.
Now it produces an array of products, including Brioche Style Wraps, Greek Style Flatbreads and Focaccia.