The rise of sourdough has been one of most significant bakery trends of recent years.
What's more, with an increasing number of consumers purchasing the bread and a long line of manufacturers large and small looking to capitalise on the ever-growing demand, the sourdough phenomenon shows no sign of abating.
Surveys conducted in April and August 2022 by the Craft Bakers Association (CBA), for example, show upward movement in the category over a short space of time. In April, 57% of CBA members sold up to three sourdough products. However, the most recent study showed that the figure had increased to 64%, with a further 10% planning to introduce sourdough products this year.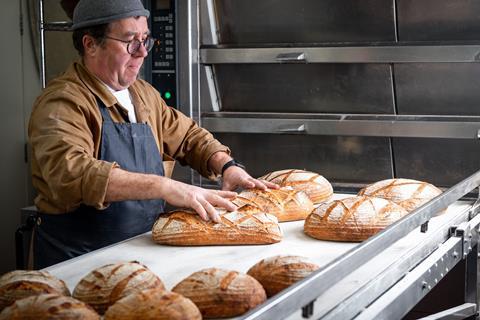 So, what's behind this rising supply and demand? According to Karen Dear, director of operations at the CBA, taste is a big factor. "A large driver of sourdough popularity is the importance of flavour to customers," she explains. "In our latest survey, 53% of bakers said that flavour is the most appealing factor when choosing sourdough."
However, the feelgood factor extends beyond consumers' palates, according to Dear. Whether sourdough is healthier than other types of bread is a matter for debate elsewhere, but what is certainly significant in terms of sales is the perception that the category carries added health benefits. In fact, in the CBA's recent study, 36% of craft bakers expressed the opinion that these perceived health benefits were the most appealing factor to consumers when buying sourdough.
"Many of today's consumers are keen to eat more healthily but still enjoy good quality baked items"
Jacqui Passmore, marketing manager UK and Ireland for ingredients supplier Dawn Foods, shares their belief. "The rise in the popularity of sourdough, particularly in the UK market, is due to consumer demand for healthier, fuller-flavoured bakery items and the association of sourdough with a more natural, artisanal way of baking as well as a more adult taste profile," she says. "Many of today's consumers are keen to eat more healthily but still enjoy good quality baked items, and the sourdough concept gives them both aspects."
The lockdown effect
Of course, the Covid-19 factor is never far away when looking at changing consumer habits, so it's no surprise the lockdown effect played its part in boosting the popularity of sourdough, according to Philippa Knight, marketing director for ingredients provider Puratos.
"The renaissance of sourdough bread has been fermenting for a number of years, but the coronavirus outbreak saw awareness and interest further intensify," she explains. "Locked-down, time-rich and needing distraction, more consumers took up the bakery baton and started experimenting with sourdough at home by developing their own starters."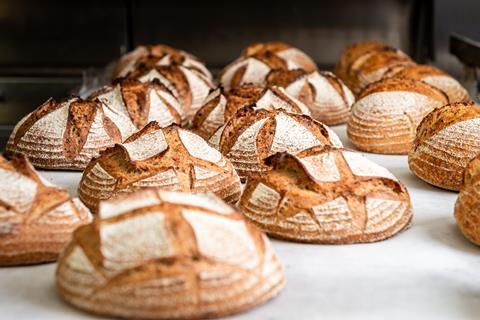 While awakening taste buds and a growing awareness of all things fermented accelerated sourdough's popularity in the pandemic, the story didn't end there. With restrictions easing and busy lives becoming the norm again, the time to bake bread and look after the starter faded, but appetite for sourdough remained, observes Stuart Meikle, commercial director of Aryzta UK & Ireland.
"With this growth of in-home baking during lockdown came a greater appreciation for artisanal bakery products, leading to a greater demand for fresh, unprocessed and well-crafted bakery products," he adds.
Still rising
So, with the effects of the pandemic abating, the sourdough bread market shows no signs of slowing, with rustic breads transcending the niche sector and reaffirming their position as a household regular.
"Bakers are increasingly catering for this rise in demand and opportunity for new product development is ripe," says Knight. Her view is backed up by Innova's product launch database, which shows 17% of bread category launches contained the word sourdough in 2021 – more than double the proportion in 2015.
"Set against the backdrop of an an increasingly competitive market, many bakers are innovating to differentiate"
But while many of these launches were traditional sourdough breads, some were other bakery products that contained sourdough to enhance flavour.
"Set against the backdrop of an increasingly competitive market, many bakers are innovating to differentiate," Knight observes. Experimenting with formats is a particular focus, she adds, with more instances of bakers combining traditional tastes with modern applications.
It's a view shared by Michael Schofield, marketing manager at ingredients supplier British Bakels. "For many years, sourdough has been used almost exclusively in baked loaves, but bakers are now also using sourdough spreads across a range of bread products, including crumpets, rolls and bagels," he explains.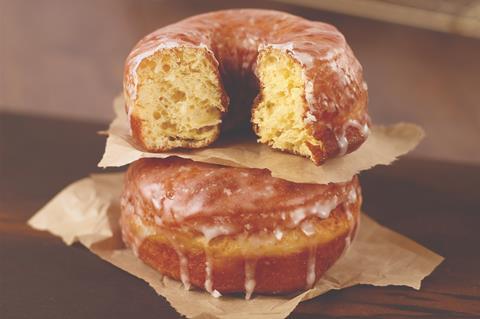 Sourdough has even crossed over into one of the other big bakery trends of recent years: the doughnut. Dawn Foods, for example, has released a sourdough doughnut mix that, according to Passmore, gives bakers the opportunity to create "luxury bakery products with contemporary, more 'grown-up' pairings". This, she says, is due to the mix being less sweet and more complex in flavour compared to other doughnuts.
The science of sourdough
While the phenomenon continues to inspire product variants in all kinds of shapes and sizes – and even some of the biggest brand names in bread have looked to capitalise on the trend with NPD in recent years – an ideological battle rages over what actually constitutes sourdough bread.
The Real Bread Campaign takes a hardline view. "Genuine sourdough is great example of real bread, but we're seeing more and more 'sourfaux', which is what we call products named or marketed using the word sourdough but that are in fact manufactured using additives and other unnecessary extras that have no place in genuine sourdough bread," says coordinator Chris Young.
"Everyone deserves better bread by keeping it simple with only natural, quality ingredients"
"The use of baker's yeast, for example, speeds the process, reducing the time that lactic acid bacteria have to cause potentially beneficial changes to the dough," Young adds.
Anomarel Ogen, who works with Gail's and Bertinet Bakery as group executive head baker for The Bread Factory, also belongs to this purist school of thought. "We fundamentally believe that everyone deserves better bread by keeping it simple with only natural, quality ingredients, and using traditional sourdough baking methods – including an optimum fermentation process designed to enhance flavour and nutrition," he says.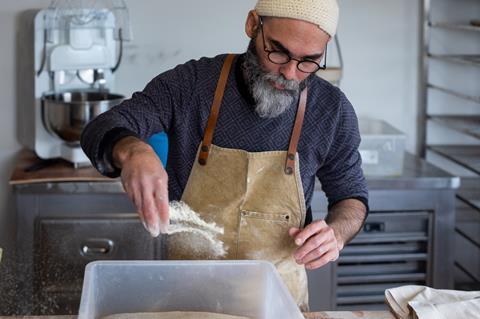 However, it would be a mistake to believe that there is no room for innovation for those taking the artisan approach. "There are all kinds of interesting things going on," Ogen insists. "For instance, one is using specific process parameters – meaning the way you actually manage sourdoughs – to select for certain behaviours. This can lead to things like creating certain compounds in a dough that don't naturally live there.
"There's also a lot of work going on regarding the optimal conditions for maintaining certain sourdoughs in order to maximise the potential nutrition of a grain," he adds.
In addition to this, certain "side uses" of sourdough are being explored because of the way it changes how bread behaves, says Ogden. "For instance, sourdough can be used as a dough softener in certain applications, because that's part of what it does," he explains.
Machinery
Another technical consideration for sourdough is the equipment used to make it. Ann Wells, commercial director of Brook Food & Bakery Equipment, says bakeries turning out sourdough need suitable machinery to complement the careful process to aid low stress mixing, scaling and moulding, as well as achieving an authentic bake profile.
"Never before has a product movement or trend seen such a change in buying habits as this," she explains, "and thus there is a need for producers to consider how equipment affects the qualities of the product to this degree."
According to Wells, ovens most suitable for sourdough are often larger and fitted with loading systems to achieve volume while maintaining a bake quality consistent with the authenticity that the customer seeks. "Steam tube ovens are the best type for this range of product, with the steam tubes coiling around each deck above and below the stone surface, ensuring a gentle yet strong bake with mellow and even characteristics," she adds.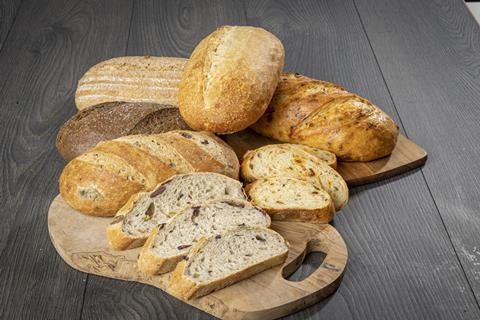 Chris Summers, regional sales director of bakery machinery manufacturer Diosna, points out that sourdough requires time and space for fermentation and resting – so the larger scale the production, the more time and space required.
These constraints are driving innovation from manufacturers, Summers insists. Traditional automated systems require a lot of floor space and have limited capability to adjust dough resting times, thus restricting production flexibility. However, through autonomous lines with AGV (Automatic Guided Vehicle) transportation, floor space requirements can be reduced as dough containers can be stacked for the duration of the resting time.
"Innovations allow sourdough production to become more accessible to a greater variety of manufacturers"
"This ensures greater flexibility for increased resting times of future products, and simplifies the addition of future capacity increases, giving the ability to future proof for potential production expansion," Summers says. "These innovations allow sourdough production to become more accessible to a greater variety of manufacturers."
And with no sign of sourdough losing its magic as far as consumers are concerned, it seems a safe bet that expansion into the category and future proofing for production capacity will be near the top of priority lists for bakers large and small for some time yet.
ADVERTISEMENT: PANDRIKS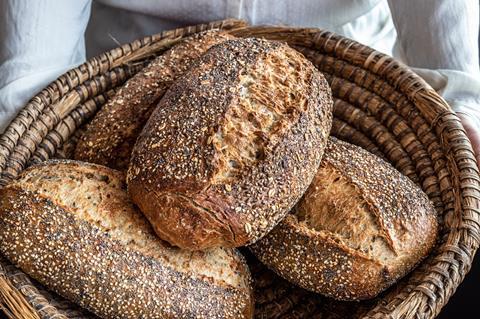 Be it sourdough in the UK or organic in other countries, we have seen a fundamental consumer shift in recent years towards ultra-rustic and healthier bread made without artificial ingredients. This trend accelerated during the pandemic with many people taking the time to bake at home and experimenting with sourdough.
The real appeal of sourdough is that it taps into all three of the top consumer trends in bakery: authenticity, wellbeing and discovery.
Consumers are looking for minimally processed bread, made according to traditional long fermentation methods with natural ingredients and free of additives. And most importantly, it must deliver on taste with a tangy, chewy crumb and a delicious crust!
Pandriks was founded 10 years ago with the vision of making great quality bread affordable for everyone. We see the growth of sourdough continuing in years to come across all segments of the market, from artisanal bakeries right through to supermarkets.
Sourdough is all about simplicity, but it doesn't mean that there isn't room for some innovation. Sourdough shoppers are willing to pay more for quality bread, but they are also more likely to try new things.
One of our newest recipes is the Honey Oat Sourdough made with wholegrain oat flour, sprouted oats, oat flakes and a touch of honey – a fantastic loaf for breakfast!