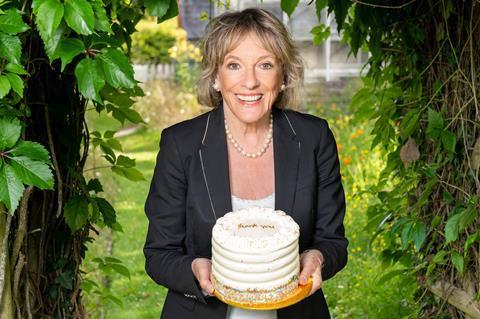 Patisserie Valerie has unveiled a new cake to raise funds for a storytelling charity.
The Thank You Cake comprises vanilla sponge filled with raspberry jam, Swiss buttercream and a gold 'Thank You' design.
Patisserie Valerie will donate 10% of all its sales to trustee Dame Esther Rantzen's new storytelling charity Silver Stories. The charity links new young readers with elderly people, many of whom who are in care homes, to read to them over the phone.
Consumers can order the Thank You Cake online via the Patisserie Valerie website for £25. Delivery from the bakery is available nationwide.
"With lockdown easing, we wanted to give you a way to say thank you to people who have gone above and beyond over the lockdown period," said the bakery in an Instagram post on its @patisserievalerie account.
Consumers can thank "friends, family, teachers, staff members, doctors, key workers or anyone who has gone the extra mile for you".
Dame Esther Rantzen previously founded the Childline and The Silver Line charities.
Silver Stories has been particularly busy during the lockdown, when young people have not been able to visit elderly relatives for a long period, it added.
The charity was created in 2015 by David Carney-Haworth and his wife, Elisabeth, in response to the loneliness that can be felt by the elderly in the community and their frequent separation from the younger generation.