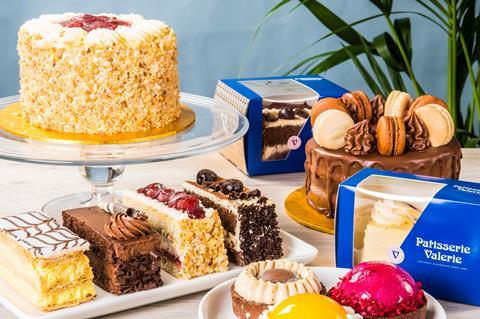 Patisserie Valerie has unveiled a new partnership with Sainsbury's which will see a selection of its cakes and pastries sold in 250 of the retailer's stores.
Fourteen of its bestselling cake and patisserie lines will be available at 250 Sainsbury's patisserie counters in a phased roll out from today (25 November).
A further six handmade celebration cakes can be ordered alongside the range via Sainsbury's click & collect system, Food To Order, from December.
The line-up includes:
Raspberry Bombe (£4.35) – an all-butter chocolate tartlet with a dark chocolate raspberry ganache filling, topped with a raspberry cremeux dome, red glaze, raspberry pieces and a signature dark chocolate Patisserie Valerie plaque
Mille Feuille (£3.55) – three layers of hand-folded, butter puff pastry with a custard St Honore cream filling, soft fondant topping and hand-decorated chocolate feather garnish
Baked Cheesecake (£3.55) – a New York-style baked cheesecake with vanilla filling and a crumbly biscuit base, finished with a fresh cream rosette and chocolate shard
Triple Chocolate Delight (£29.95) – three layers of soft chocolate sponge, rich chocolate cream, a dark chocolate ganache drip, rich chocolate cream rosettes, topped with vanilla and chocolate macarons
Fairytale Gateau (£32.95) – four layers of vanilla sponge, vanilla Swiss buttercream and raspberry jam, finished with glimmer pearls, pink sprinkles and hand-piped pink and white Swiss buttercream whirls.
"Both Patisserie Valerie and Sainsbury's are brands that are much loved and trusted by UK consumers. In bringing our range exclusively into Sainsbury's stores and online to their customers, we are excited to build on that trust with our high quality, handmade cakes and patisserie," said James Fleming, CEO of Patisserie Valerie.
"It was important to us that the offer was exactly the same as the menu served in our cafes and we have worked together as a team with Sainsbury's to ensure that this is possible, without any compromise to the visual excitement and eating enjoyment of all our products."
It's not the first time Patisserie Valerie's cakes have been sold in Sainsbury's. The pair teamed up in 2017 for a trial which saw cakes and pastries sold in presentation boxes at 12 of the retailer's sites. The trial was extended to 70 Sainsbury's stores in 2018.
Later that year, Patisserie Valerie's parent company Patisserie Holdings entered administration. It was acquired by private equity firm Causeway Capital and has since merged with Bakers & Baristas.