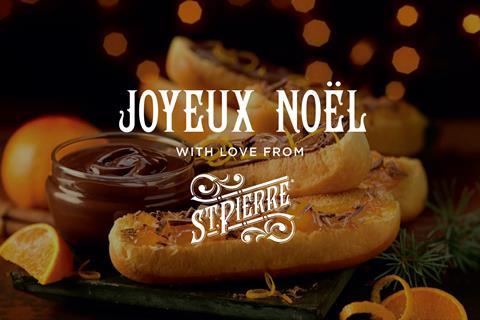 St Pierre is launching its first multichannel consumer Christmas campaign inspiring home cooks to 'make every day magnifique'.
The push signals a move away from individual product launch communications and will instead present the brand as key to the festive dining occasion via traditional and digital PR, advertising, shopper marketing and social media.
St Pierre has grown 30% year on year, it said, and has listings in Tesco, Ocado, Sainsbury's, Spar and WH Smiths.
Earlier this year it unveiled a new look to 'celebrate its French heritage' and reflect 'the high quality' of its bakery range.
"The St Pierre brand is going from strength-to-strength both in the UK and in the US, where it is the country's number one brioche brand," said St Pierre Groupe's head of marketing Jen Danby, who recently joined the company from The Happy Egg Co alongside David Wagstaff.
"Our St Pierre products lend themselves so well to so many meal occasions and we really want to add a splash of magic and inspire our nation of home cooks to 'make every day magnifique', with simple recipes, tips and tricks to elevate their everyday meals."
As part of the activity, Christmas recipes showcasing the versatility of its brioche products will be posted on a dedicated hub on its website. In-store activation, an influencer campaign and consumer-facing advertising will also take place.
The brand will also conduct research to understand how festive menus across the nation have been impacted by the turmoil of the coronavirus pandemic.
The insight will then be used to help anticipate trends in the market for product development in 2021.
The latest activity comes after several new appointments were made to the brand's in-house marketing team.
"We've invested heavily this year in building our skillset in-house to be able to elevate our brands," Paul Baker, founder of St Pierre Groupe, added.
"There is a fantastic opportunity for St Pierre to carve out a place in the hearts and minds of consumers, because good food is more than just a meal on your plate. It's a get-together, it's sharing, it's family – and this is never more true than at Christmas."