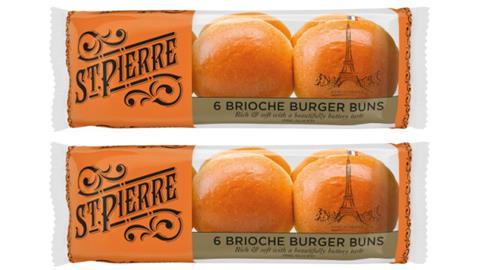 St Pierre has gained its first multiple grocery listing with Tesco as it unveiled a brand refresh.
Its six-pack Brioche Burger Buns (rsp £2) and six-pack Hot Dog Rolls (rsp £2) will be rolling into larger stores on 4 May, while items from the On-the-Go range, including Pains au Chocolat and Brioche Waffles (rsp £0.95), will be debuting in Tesco Express stores at the same time.
The products will feature St Pierre's new branding, which the company said reinforced its "rich Parisian heritage". The updated look retained its signature orange colour while introducing an "art nouveau-style script for maximum stand-out on shelf".
"For St Pierre, we wanted to celebrate our rich French heritage and this brand-new look does just that. While we realise this refresh and launch into the multiples comes at a challenging time for both the industry and the wider world, with rebranded packs heading into stores from May, we felt the time was right to share our news," said Paul Baker, founder of St Pierre Groupe.
"Although these are difficult and unprecedented times, we feel fortunate to be able to provide more households with quality bread and bakery products at a time when demand is so high. We believe that while consumers are looking to buy comforting staple foods, it is also important to continue to offer them foods like St Pierre, that allow them to elevate their everyday meals easily."
The brand recently added to its On-the-Go range with a Millionaires Waffle, featuring chocolate and caramel.