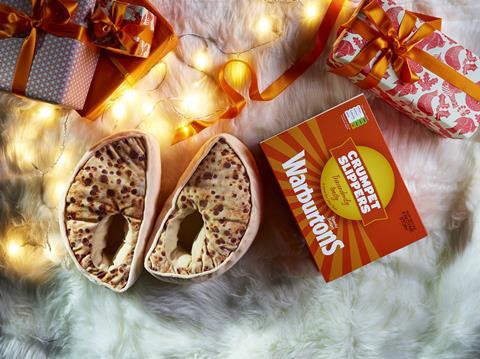 Warburtons has pushed the boundaries with its latest NPD – crumpet slippers.
The limited-edition footwear marks the bakery brand's first foray into clothing as it aims to raise money for UK charity FareShare this Christmas.
The slippers, said to be inspired by the 'circular goodness' of Warbuton's iconic crumpet, cost £19.99 and are being sold online in XS-Large (UK size 3-12).
For every pair purchased, the equivalent of 64 meals will be donated to those most in need during this festive period, Warburtons said. The campaign will also enable the charity to distribute over 85,000 free meals.
Jonathan Warburton, chairman of the bakery brand described 2020 as an "incredibly challenging" year for many people from a financial and health-perspective.
"That's why we have worked hard to ensure we can feed the nation, both by getting product onto shelves but also by supporting food banks, community groups and breakfast clubs across the country," he said.
"It was reflecting on this achievement that we realised we needed to find a festive way to finish the year, not only putting a smile on the faces of loved ones on Christmas Day, but also giving back to the loyal crumpet lovers who ensure we can donate as much as we have. As we enter some of the toughest months for those in need, FareShare's incredible work fighting hunger was an obvious partner and we are proud to be able to donate all sale proceeds from the slippers to such a worthy cause."
Linsay Boswell, CEO at FareShare, added: "We are delighted that Warburtons have chosen to donate sales of their festive crumpet slippers to FareShare to help us feed families across the UK this winter. Getting good, nutritious food to vulnerable people has never been more vitally important than it is now, and this donation will make a big difference to the communities we support."
FareShare is the UK's largest food redistribution charity, with more than 30 warehouses across the UK. It takes food from the food industry that can't be sold in shops, either because of packaging errors, a short shelf life or overproduction. This is then redistributed through a network of 11,000 frontline organisations, across the UK such as homeless hostels, school breakfast clubs, domestic violence refuges, older people's lunch clubs, food banks and hospices.
FareShare provides enough food to create almost a million meals for vulnerable people every week.