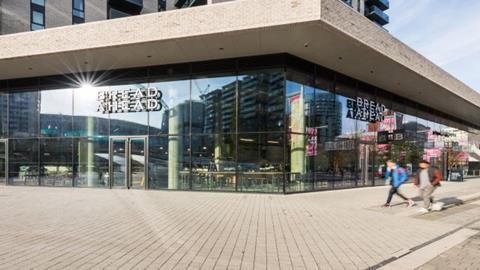 London-based bakery Bread Ahead has opened a 11,000 sq ft site featuring a rotisserie and pizza restaurant, all-day dining café and cooking school.
The project, which opened on Tuesday (26 November) near Wembley Stadium, includes a 182 cover-restaurant, bakery, two baking classrooms and a wholesale operation.
The bakery and all-day dining café sells products including fresh pastries and smoked salmon brioche buns, as well as sandwiches, pizza slices, teas and coffee. There is also a 156-cover outdoor terrace. Rotisserie and pizza restaurant dishes include whole or half free-range rotisserie chicken and margherita and n'duja pizzas.
"Our new 'Gastro Bakery & School' has been a two-year journey from start to finish. We have created a multipurpose site to house a restaurant/café and bar along with an education facility, all of which will be based around a large open plan artisan production bakery," said Matthew Jones, founder of Bread Ahead.
"Our offer is aimed at the growing local community of Wembley as well as the eager bread-a-headers of London and beyond."
The bakery school is sponsored by appliance supplier AEG and will feature two glass-fronted classrooms on the mezzanine floor of the building, overlooking the restaurant and bakery below.
"The Wembley opening marks the first step in a long-term partnership with the brand, as we look to install AEG appliances across multiple other Bread Ahead sites early in the New Year," said Chris George, head of marketing at Electrolux UK & Ireland.
The Bread Ahead team is currently developing a new range of sourdough breads for the expanding wholesale customer base, run from Wembley.
Inside the Bread Ahead venue