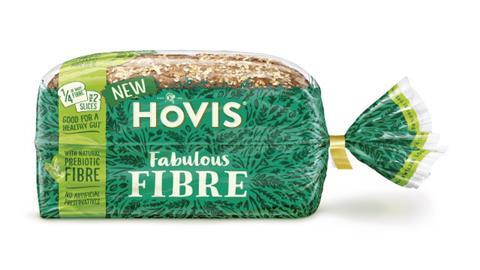 Hovis is hoping to woo health-conscious shoppers with the introduction of a new high-fibre loaf.
The 600g Fabulous Fibre loaf is baked with inulin fibre and contains no artificial preservatives.
Two slices of Fabulous Fibre contain 8g of fibre, which is ¼ of an adult's daily target intake, according to Hovis. In contrast, Hovis medium white bread contains 2g of fibre in two slices, and medium wholemeal 5.4g.
The launch follows research that nine out of ten adults are not eating enough fibre every day, according to the National Diet and Nutrition Survey.
One in three consumers (34%) have also called for bread to have more nutritional benefits, according to market research firm Mintel.
Hovis said it was hoping to encourage health-conscious consumers to reappraise the pre-packaged bread category.
"We are excited to launch our new Hovis Fabulous Fibre loaf which will help consumers boost fibre in their diet at a time when wellness and good health are at the forefront of everyone's mind," said Hovis marketing director Jeremy Gibson.
"Consumers want more nutritional products that are tasty and convenient which is exactly what this loaf delivers."
The loaf will also contribute to a healthy gut, said the company.
"Consumers shouldn't have to change their lifestyle or meal choices to get more of the fibre they need for a balanced diet. We think this is a winner all round and something which the whole family, health seekers, and those with traditional tastes can enjoy."
Fabulous Fibre will be available at an rsp of £1.50 in Tesco from 4 May and Waitrose from 20 May.