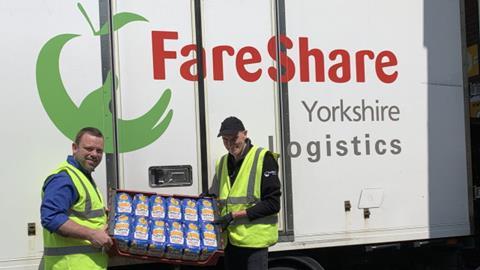 Hovis has donated nearly 50,000 loaves of bread to FareShare amid the coronavirus outbreak.
The bakery brand has been working with the hunger fighting and food waste charity since 2017 but has recently increased the number of loaves it donates in order to meet the surge in demand.
In April alone it donated nearly 30,000 loaves and May's total has reached 19,952 so far, Hovis said.
The partnership will be valuable at a time when many people are facing income reductions and, as schools are shut, this is placing additional strain on vulnerable families whose children were receiving school lunches, it added.
"At this incredibly challenging time for the UK, it is vital that we all pull together to help those whose livelihoods have been impacted by the Covid-19 crisis," said Nick Taylor, site manager at Hovis' Nottingham Bakery.
"While we cannot hope to replicate the heroic work being done by NHS workers and care staff on the front line, Hovis can help by donating good food to those in need, helping to fight hunger and cut food waste at the same time."
The scheme started at its Nottingham bakery but has since been extended to five other Hovis sites, ranging from London to Glasgow.
Once received, donations go to FareShare's network of charities and community groups across the UK.
"These organisations include homeless hostels, domestic violence refuges and community groups and food banks, delivering food parcels to the doorsteps of vulnerable older people and families facing financial hardship. Hovis' donations will benefit many of those who are most in need during this crisis," added Ashley Davies, commercial manager at FareShare.
Roberts Bakery has also supplied FareShare with additional loaves during the coronavirus crisis.