Matcha, bao buns and mochi are just a few examples of treats from the East that have found a cult-like following in the UK. And, according to some, they're just the start as the likes of citrus fruits yuzu and calamansi, pandan leaves and sweet adzuki bean paste seek to make inroads with UK foodies.
This isn't matcha do about nothing. While green tea might not be everyone's cuppa, experts believe there are opportunities for these flavours to find a home, particularly in bakery.
"Asian flavours tend to have a healthy and natural perception that resonates well with consumers," explains Natalie Drake, bakery category manager, Synergy Flavours, who highlights the Insta-worthy qualities their often pastel colours and floral nature can bring to desserts.
"Pair this with the highly anticipated postponed Tokyo Olympics in 2021 and we would expect the flavours of Japan to grow even further in years to come."
A trip to London's Chinatown displays the vast array of options for these flavours, from an ube bilog at Mamasons (see box out, p29) to Durian mille crêpe cakes at Kova Patisserie, or pandan & coconut macaron ice cream sandwiches from Yolkin.
However, their success often depends on fusion of east meets west – to introduce consumers to new concepts and flavours.
"If it's Asian flavours that bakers want to focus on, these would be best placed within a recognisable UK bakery format, such as doughnuts, cakes or pastries. It's all about pairing the familiar with the unfamiliar," Drake adds.
She cites Mintel research that shows 35% of consumers are interested in trying unusual flavours or ingredients when featured in familiar formats.
Try Japanese black vinegar sesame cupcakes filled with yuzu curd or apricot and wasabi muffins for an edgy take on traditional sweet bakery flavours
Dawn Foods highlights experimentation by artisan chocolatier William Curley with unorthodox flavours such as apricot and wasabi, or Japanese black vinegar and yuzu in his products. "These flavours can be transposed into bakery too – Japanese black vinegar sesame cupcakes filled with yuzu curd or apricot and wasabi muffins for an edgy take on traditional sweet bakery flavours," says Jacqui Passmore, marketing manager UK and Ireland at Dawn Foods.
Waitrose embraced cherry blossom – known as sakura – this Easter by pairing its "delicate floral notes and subtle sweet cherry flavour" in egg-shaped chocolates. Synergy expects this to gain popularity, even naming it as its global inspiring flavour for 2021.
Matthew Bratt, patisserie chef at Puratos UK, believes coconut blossom and jaggery, an unrefined sugar product with a caramel-like flavour, could also work. But other flavours may be a step too far. "Many of the most popular flavours in Asia – sweet products such as sweetcorn, bean paste and ube – are products that, in the UK, are more often associated with savoury dishes. These are still proving to be a challenge for the UK consumer," he believes.
However, consumers looking for something a little different can be enticed with clementine flavours instead of orange, or yuzu over a simple lemon, adds Passmore.
Drake says bakers looking for something more adventurous will have a growing interest in lychee, Japanese plum, seaweed, the aforementioned sweet adzuki bean paste, and Hokkaido (Japan's answer to Jersey milk) which can be used to make milk bread. Red bean is already appearing in some London bakeries as a filling for croissants and cakes, she adds.
Meanwhile, floral tea flavours are also likely to be used in treats. "More delicate Asian flavours such as jasmine and white tea are gaining popularity," says Passmore.
So, while travel is off the cards right now, heads are still turning east for inspiration.
Sourcing is trickier due to coronavirus
The Covid-19 crisis means some ingredients may prove more difficult to come by as the supply chain is impacted.
"We are already seeing disruptions to the supply chain as logistics and shipping are both affected by the ongoing coronavirus situation," says Tasneem Alonzo, managing director, Lähde brand by EHL Ingredients. She notes export restrictions on rice and wheat, which will affect the world's supply, not just the UK, with delays already experienced on white rice flour and basmati rice among others.
The dried ingredients supplier is also expecting a shortage of products from China such as garlic, ginger and sunflower seeds.
"Bakers, food producers and manufacturers will certainly need to review their current supplies and order ingredients to cover customer orders as the UK's lockdown continues," Alonzo says, adding that EHL is working to fulfil orders and keep prices stable.
"We are in extraordinary times and it's difficult to predict exactly how the situation will pan out," she concludes.
Asian-inspired bakery in the UK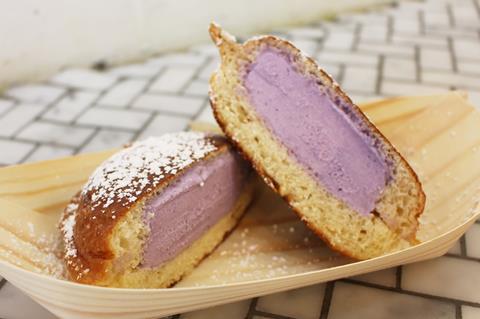 Ube Bilog, Mamasons
Mamasons Dirty Ice Cream, found in London's Chinatown, is renowned for its unusual but delicious flavours. It utilises ube – a native Filipino purple yam – in several of its menu items. Most notable among these is the Ube Bilog. Priced at £6.50, the bilog is essentially a hot ice cream sandwich, which sees a scoop of ice cream placed in a milk bun called a pandesal and toasted.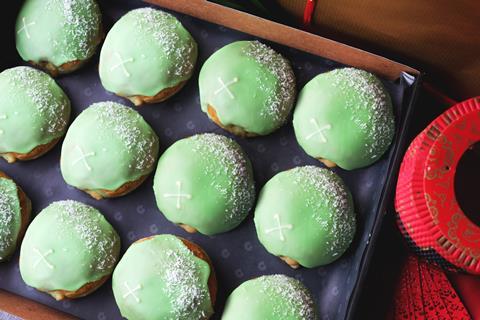 Pandan Doughnuts, Crosstown Doughnuts
For the past couple of years, London-based Crosstown Doughnuts has celebrated Chinese New Year with its limited-edition Pandan Doughnuts. For these, its signature sourdough is infused with fresh pandan leaves to deliver a pandan flavour as well as a green-tinted hue. Each doughnut is then filled with a coconut cream custard and topped with pandan icing and
desiccated coconut.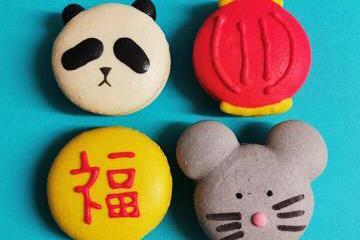 Black Sesame Lantern, Yolkin
Macaron and ice cream sandwich specialist Yolkin sought to embrace a number of flavours for Chinese New Year 2020, which celebrated the incoming Year of the Rat. It sold a four-pack of macarons, comprising a pandan-flavoured panda, a rat-shaped macaron with lychee filling, a black sesame lantern, and a jasmine tea-infused macaron with the Chinese phrase 'Fook', which represents good fortune and happiness.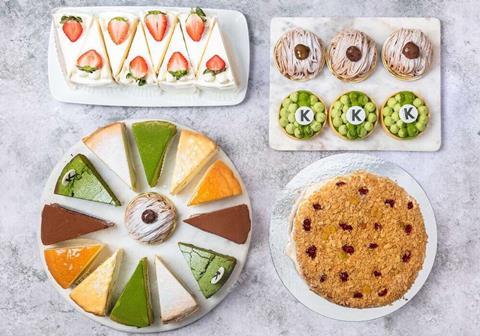 Mille Crêpe Cakes, Kova Patisserie
Japanese fusion dessert specialist Kova Patisserie opened its third site in Chinatown in summer 2019. Its best-selling mille crêpes range are described as having a "light and unique" texture. They're comprised of layers of French crêpes with flavoured cream in between. Variants include familiar flavours such as vanilla and chocolate, but also extend to matcha and Earl Gre